A Colorado safe injection site bill gets pulled in the face of a gubernatorial veto threat, the New York Senate attempts to address issues hampering the rollout of the legal marijuana industry, and more.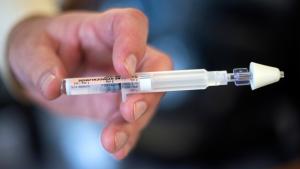 Marijuana Policy
Late Polls Say Ohio Marijuana Legalization Initiative Poised to Pass Next Week [19]. The Issue 2 [20] marijuana legalization initiative is set to pass on Election Day next Tuesday if two recent polls are to be believed. A poll from Ohio Northern University has just under two-thirds support for legalization, while a Public Policy Polling survey has support at 59 percent.
The measure would allow adults to grow their own crop at home or resort to licensed market for the sale of marijuana products. But because it is a statutory question rather than a constitutional amendment, the legislature could attempt to amend it after it passes.
Early voting has been going on since October 23, and voter turnout is already well above normal levels. That is because even though this is an off-year election, not only marijuana legalization but also abortion rights is on the ballot. Both issues are generating enthusiastic support.
New York Senate Seeks Solutions to Marijuana Industry Hurdles [21]. The state Senate Subcommittee on Cannabis held its first public hearing Monday as it looks to address complaints over consumer accessibility and licensing hurdles in the struggling nascent legal industry.
Sen. Jeremy Cooney (D) said that many of his constituents have been frustrated by the challenges of trying to get licensed and say they are drowning in a sea of red tape. The first licenses were issued last year, but the legal industry remains challenged by unlicensed operators and the number of legal retail outlets remains relatively small.
The state Office of Cannabis Management acknowledged those frustrations. "While we see clearly what New York cannabis will be, we have a long way to go before we say that the supply chain is functioning as intended," said Chris Alexander, head of the agency. "Small farmers are struggling and we need more retail shelves for their product. We are working to make that a reality and are committed to providing stability to a more volatile industry."
Harm Reduction
White House Calls on All Schools to Carry Opiate Overdose Reversal Drug [22]. The Department of Education has sent a letter to every state education agency, intergovernmental groups, and local, state, and national education associations urging schools to "focus on measures to prevent youth drug use and ensure that every school has naloxone and has prepared its students and faculty to use it."
"Our schools are on the frontlines of this epidemic, but our teachers and students can be equipped with tools to save lives," Education Secretary Miguel Cardona, and White House Office of National Drug Control Policy (ONDCP -- the drug czar's office) director Rahul Gupta wrote in the letter.
"Overdose deaths among adolescents doubled from 2019 to 2020 and continue to rise, even though youth rates of drug use have remained stagnant. That's because a teenager today can log onto social media with a smartphone and buy what they think is an opioid pain medicine or a prescription stimulant to help them study -- and instead die from one pill that actually has fentanyl in it. Just one pill," the letter said.
"And data show that two-thirds of adolescent drug poisoning deaths occurred with a potential bystander nearby, but naloxone was often not administered," it added, citing a recent study [23] that found that among persons aged 14-18 years, overdose deaths increased 94% from 2019 to 2020 and 20% from 2020 to 2021.
The study also found that the median monthly overdose deaths among persons between 10 and 19 years old increased 109% from July-December 2019 to July-December 2021.
Colorado Safe Injection Site Bill Pulled in Face of Governor's Veto Threat [24]. The legislature's Opioid and Other Substance Use Disorders Study Committee on Monday approved a slew of drug policy reforms to be considered during next year's legislative session but dropped plans to include approving safe injection sites in the face of a veto threat from Gov. Jared Polis (D).
Committee Chair Rep. Chris deGruy Kennedy said Polis' office issued the veto threat on the bill last week, three days before the committee was set to meet for a final time. Polis' office also called Sen. Kyle Mullica, a swing vote on the supervised use issue who had worked with deGruy Kennedy throughout the summer on a compromise.
The committee draft would have given the state oversight over safe injection sites and would have required local government approval before sites could open in any given jurisdiction. Mullica and one other Democrat joined with four Republicans on the committee to kill the measure.
"This isn't really a resource question with this bill," said deGruy Kennedy. "This is giving permission for an organization that's ready to do this, to go do it. And I'm incredibly disappointed that it's not going to be moving forward today… Here's to saving more lives next year."
But the committee approved four other drug reform measures aimed at preventing overdoses and improving drug treatment options statewide. The bills would ease access to opioid treatment medications, expand a proven meth treatment, increase fundings for health in prisons and jails, and broaden immunity for organizations that work with drug users. But they have to get through the legislature next year.