A MAGA marijuana legalization bill gets refiled, German parliamentarians finally get around to debating marijuana legalization, and more.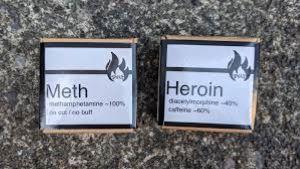 Marijuana Policy
Bipartisan Marijuana Legalization Bill Refiled in Congress [19]. A bipartisan marijuana legalization bill first filed in 2021 by Rep. Nancy Mace (R-SC) that served as an alternative to a Democratic-led marijuana legalization bill that has twice passed the House has now been refiled. The first time around, Mace's bill, the States Reform Act, had only GOP support, but this time, a handful of Republicans and Democrats have already signed on.
Mace said she had secured a commitment from then Speaker-to-be Kevin McCarthy (R-CA) to hold a committee markup on her bill in return for her vote to raise the debt ceiling and cut certain federal programs. But Mace then became one of eight House Republicans to vote against keeping McCarthy is the leadership, his departure in turn endangering the prospects for any further progress on marijuana legalization after McCarthy was eventually replaced by anti-weed Rep. Michael Johnson (R-LA) as House Speaker.
The text of the new version of the bill is not yet available and it is not clear what changes -- if any -- have been made, but the original bill would have ended federal pot prohibition and, in a bid to win bipartisan support, incorporated equity provisions such as expungements for people with non-violent pot convictions and the imposition of an excise tax that would have supported community reinvestment, law enforcement, and Small Business Administration (SBA) activities.
The bill is primarily aimed at having the federal government treat marijuana in a similar manner to alcohol. Cannabis would be removed from the Controlled Substances Act (CSA), with retroactive effects for people previously punished.
Cosponsors of this year's bill include Rep. Tom McClintock (R-CA) and Rep. Matt Gaetz (R-FL), as well as Democrat Rep. Dean Phillips (D-MN) and Rep. David Trone (D-MD).
New Hampshire Legislative Panel Discusses Marijuana Legalization Recommendations [20]. A bill signed into law in August established the Commission to Study With the Purpose of Proposing Legalization, State Controlled Sales of Cannabis and Cannabis Products with the intention of presenting draft state liquor store marijuana legalization bill recommendations by December 1. The commission has been busy, holding five meetings already, with one more set for early November.
"New Hampshire has an opportunity to safely regulate the sale of marijuana with a model few others can provide," said Gov. John Sununu (R) as he signed the bill. "By establishing a commission to study state-controlled sales, this bill will bring stakeholders from across New Hampshire together to ensure that preventing negative impacts upon kids remains our number one priority."
"We're not here to discuss legalization, we're here to discuss how to put a bill forward that would do legalization, but do it in the matter that is most protective of our citizens and our regulations," said Sen. Timothy Lang. "The charge of the commission is to put the best bill forward possible if legalization were to happen in a state-controlled model."
Look for the state legislature and the governor to advance a state liquor store-model bill before the year's end and to try to get it passed next year.
Opiates
Sen. Maggie Hassan Uses International Narcotics Control Hearing to Question Officials Over the Opioid Precursor Pipeline [21]. Sen. Maggie Hassan (D-NH) questioned officials from the Department of State, Drug Enforcement Administration (DEA), Department of Justice, and the Department of Homeland Security during a Senate Caucus on International Narcotics Control hearing about how US agencies can use international partnerships to address the precursor chemical pipeline that cartels are using to produce fentanyl and other illicit synthetic drugs. Senator Hassan discussed her recent trip to China as part of a bipartisan Congressional Delegation, and how the U.S. can build on the conversations that they had in order to continue pushing Chinese President Xi Jinping and Chinese officials to limit the export of precursor chemicals.
First, Sen. questioned Maggie Nardi, the Acting Deputy Assistant Secretary for the Bureau of International Narcotics and Law Enforcement Affairs at the Department of State: "I was on a recent bipartisan congressional delegation trip to China where we met with a number of senior leaders. I pressed Chinese President Xi to crack down on the illicit trafficking of fentanyl precursors that are made in China and as you all have outlined, sold to cartels in Mexico… President Xi indicated that he might be willing to take action on this, he said he would look into appointing senior leadership to start communication with us and we obviously now have to hold him to this. What steps will the State Department take, can it take to proactively engage with its Chinese counterparts to push China more to address the development and sale of fentanyl precursors, and what specific goals or benchmarks will the State Department set to track progress?" asked Hassan.
Nardi thanked Hassan for the message she delivered to Chinese leaders and discussed how the State Department has encouraged China to participate in the Global Coalition to Address Synthetic Drug Threats and that Chinese officials have attended some meetings.
Senator Hassan also asked William Kimbell, the Chief of Operations for the Drug Enforcement Administration and Department of Justice, and Ricardo Mayoral, the Deputy Assistant Director for International Operations for the Department of Homeland Security, "What role can US law enforcement play in disrupting the precursor pipeline if China agrees to work with us? For instance, could US law enforcement work with China to stop illegal money laundering that bankrolls the production of fentanyl precursors?" Mr. Kimbell pointed to recent meetings with Chinese officials about companies that they believe are selling precursors for the manufacturing of fentanyl and said that "the DEA is ready and willing at any given time to share information with them and to provide them with intelligence it needs to stop these companies from this behavior."
International
Vancouver Police Crack Down on Unsanctioned Safe Supply Program [22]. Vancouver Police on Thursday raided the offices of the Drug User Liberation Front (DULF) on Hastings Street on the Downtown Eastside, as well as two nearby homes, in a crackdown on unsanctioned "safe supply" drug sales amidst the city's ongoing overdose crisis. Two people were arrested.
DULF initiated the program of sales of lab-tested drugs in an effort to reduce fatal overdoses by ensuring that consumers knew what they were getting, something police acknowledged in a press release on the raid.
Even while noting DULF's harm reduction efforts, police said the group has "publicly admitted to trafficking controlled substances such as heroin, cocaine, and methamphetamines.
"We understand the magnitude of the ongoing overdose crisis and the impact drug toxicity deaths have in communities throughout the province," Insp. Phil Heard of the VPD's Organized Crime Section said in a statement. "While DULF's actions were intended to reduce the harms caused by toxic drugs, we have always warned that anyone who violates the Criminal Code or the Controlled Drugs and Substances Act could face enforcement and criminal charges. This group has knowingly operated illegally in the Downtown Eastside and we have now taken action to stop it."
DULF has said it has been selling tested drugs at cost for more than a year, and that its efforts had resulted in fewer overdoses, reduced drug use among some clients, and zero associated overdose deaths.
British Columbia has responded to the overdose crisis by embracing the decriminalization of the possession of personal use amounts of drugs, but that is not nearly enough, according to DULF.
"Decriminalization as a response to overdoses is a drop in the bucket," said group cofounder Jeremy Kalicum.
Marijuana Legalization Debate in Germany's Bundestag Heats Up [23]. The federal legislature, the Bundestag, has for the first time debated a draft marijuana legalization bill proposed by the federal government. The deTbate had originally been set for last week but was delayed by the outbreak of war in Israel and Gaza.
The bill would legalize the use and possession of marijuana by adults, but was "scaled back" from full-blown commercial legalization following consultations with the European Union.
A Social Democratic Party member made the case for legalization, cited profits to organized crime and the fact that illegal marijuana "is often contaminated."
Both the rightist Union Party and the rightist Alternative for Germany spoke against the bill, arguing that it would turn the country "in the wrong direction" and arguing instead for only the legalization of medical marijuana.