More usual suspects come out against the Ohio marijuana legalization initiative, the FDA issues a warning about the home use of prescribed ketamine, and more.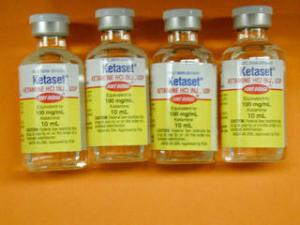 Marijuana Policy
Ohio Senate Urges Voters to Reject Marijuana Legalization Initiative [19]. On Wednesday, the day early voting began for next month's election, the Republican-led Senate passed a resolution urging voters to reject the Issue 2 [20] marijuana legalization initiative. The measure, Senate Resolution 216 [21], resorted to Reefer Madness-type arguments in its bid to scare voters into a "no" vote. "The proposed statute authored by the commercial marijuana industry," it says, "does not serve the best interests of the people of Ohio, will bring unacceptable threats and risks to the health of all Ohioans, especially children, will create dangers in the workplace and unacceptable challenges and costs to employers, will make Ohio's roads more dangerous, will impose significant new, unfunded costs to Ohio's public social services, and serves only to advance the financial interests of the commercial marijuana industry and its investors."
The resolution asserts that marijuana is "a gateway drug," that drug overdoses "have been the leading cause of injury and death in Ohio" since 2007 (but the 33,000 overdose deaths in a decade are fewer than the 42,000 people killed by COVID), and that a whole litany of dire consequences would arise from legalization, including more emergency room visits for children, increased risk of young people developing psychosis, lower intelligence and learning ability, more car crashes, higher crime rates, a bigger illicit cannabis market and "great risks at the workplace to employers, other workers, customers, and others."
Polling last month had the initiative at 59 percent.
Drug Policy
CDC Says Drug Overdose Deaths Hit All-Time High Last Year [22]. The Centers for Disease Control and Prevention (CDC) has released an estimate of drug overdose deaths and projects that 112,024 people died in the 12 months ending in May of this year, some 2,700 more than the previous year. That is a 2.5 percent increase, which indicates a slight leveling off of the still-increasing overdose numbers.
Dr. Katherine Keyes, a professor of epidemiology at the Columbia University Mailman School of Public Health, noted that the increase is leveling off.
"We still have an extraordinary number of overdose deaths that is orders of magnitude higher than we've seen in previous years," said Dr. Katherine Keyes, a professor of epidemiology at the Columbia University Mailman School of Public Health. However, "the increase that we [saw] in 2021 has slowed down. There were extraordinary increases in 2020 and 2021 that have started to flatten out in 2022 -- now going into 2023. They're not declining yet," Keyes said. "But the pace of the increase is certainly slowing. So that is both good news and indicative of a continuing public health crisis."
The death toll rose especially sharply in Western states, with Washington seeing the biggest increase, a jump of 37 percent from the previous year. That increase is likely a function of the late introduction of fentanyl into drug markets in the Pacific Northwest.
Fentanyl and other synthetic opioids were involved in the vast majority of overdose deaths.
"Fentanyl is an unpredictable product, and people who use too much can rapidly have an overdose," Keyes said, adding that the drug is particularly dangerous for people who don't know they are consuming it. "Many people who use drugs are more tolerant to fentanyl and prefer it," she said. "Other people use it without knowing it, and that can be very dangerous because people who don't have a tolerance to opioids who are exposed to fentanyl only need a very small amount of exposure to rapidly induce an overdose."
FDA Issues Warning Over Home Consumption of Telemedicine-Prescribed Ketamine [23]. The Food and Drug Administration (FDA) has issued an alert [24] warning about the dangers of unsupervised use of compounded ketamine to treat psychiatric disorders. The drug, a powerful anesthetic, is increasingly popular for treating depression, anxiety, PTSD, and other difficult-to-treat mental health issues.
Compounded drugs are drugs created in pharmacies (as opposed to manufactured in pharmaceutical plants) that are modified for the specific needs of individual patients. Ketamine is often used under supervision as part of psychiatric therapy at clinics or "wellness centers," but is also prescribed by online marketers who prescribe it via telemedicine for unsupervised home use.
"Patients who receive compounded ketamine products from compounders and telemedicine platforms for the treatment of psychiatric disorders may not receive important information about the potential risks associated with the product," the FDA warned.
Ketamine is unapproved and unregulated for psychiatric use, but doctors can prescribe it "off label" for any condition they desire. The boom in telemedicine during the pandemic has seen large numbers of online prescribers emerge, who dispense the medication after a brief video interview. Some prescribe as many as 30 doses at a time.
"Whenever you have something new, there may be people who run ahead with it. And there will be people who do things based on less evidence rather than more," said Dr. Joshua Berman, medical director for interventional psychiatry at Columbia University, who helped develop the department's ketamine program.
"Our concern is that these online sellers are going to ruin it for everybody," said Peter Koshland, who runs a compounding pharmacy in San Francisco. "Our fear is that regulators, if they perceive a threat to public health, will move to take this amazing medicine away and leave patients at risk."
Law Enforcement
California Becomes First State to Ban "Excited Delirium" As Cause of Death in Police Encounters [25]. Gov. Gavin Newsom (D) has signed into law Assembly Bill 360 [26], which bars coroners or medical examiners from using the term "excited delirium" on death certificates.
The state becomes the first to ban the phrase, which medical associations have said is rooted in racism and which has often been used to justify the deaths of people in police custody, especially those using stimulant drugs.
The signing of the bill was a victory for "justice, police accountability, human rights and health," said Dr. Michele Heisler, the medical director of Physicians for Human Rights. "This baseless concept can no longer be used in California to absolve law enforcement for deaths in custody, misinform responses to people facing medical and behavioral crises, or block access to legal remedies."
Two years ago, the American Medical Association (AMA) announced its opposition to the use of the term, saying reports showed a pattern of using the term as "justification for excessive police force, disproportionately cited in cases where Black men die in law enforcement custody."