A North Carolina Republican congressman files a bill to punish localities that legalize marijuana, Peruvian Shining Path remnants tied to the cocaine trade clash with Peruvian army troops, and more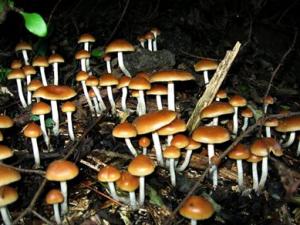 Marijuana Policy
North Carolina Congressman Files Bill to Punish Legal Weed States [21]. Rep. Chuck Edwards (R-NC) has filed a bill that would punish states or reservations where marijuana is legal by withholding 10 percent of highway funding to them. Edward's Stop Pot Act, filed last Friday, targets jurisdictions "in which the purchase or public possession of marijuana for recreational purposes is lawful."
It was spurred by his ire at the Eastern Band of Cherokee Indians, which will vote on whether to legalize marijuana this week. He argues that such laws are an affront to federal law.
"The laws of any government should not infringe on the overall laws of our nation, and federal funds should not be awarded to jurisdictions that willfully ignore federal law," he said in a press release. "During a time when our communities are seeing unprecedented crime, drug addiction, and mental illness, the Stop Pot Act will help prevent even greater access to drugs and ease the strain placed on our local law enforcement and mental health professionals who are already stretched thin."
The tribe does not think much of Edwards' move. Principal Chief Richard Sneed noted that Edwards is "a non-Indian, elected official telling a sovereign tribal nation how they ought to handle their business" and that he "overstepped his authority."
Psychedelics
California Psychedelic Decriminalization Bill Heads for Assembly Floor Vote [22]. A bill to decriminalize certain plant- and fungi-based psychedelics is heading for a final Assembly floor vote after clearing a final committee vote last Friday. Senate Bill 58 [23], from Sen. Scott Weiner (D-San Francisco) has already passed the Senate and cleared the Assembly Appropriations Committee on Friday.
The bill would decriminalize plant-based and other natural hallucinogens such as psilocybin, dimethyltryptamine (DMT), ibogaine, and mescaline, but in deference to the Native American Church, not peyote. Police would be unable to charge those in possession of personal use amounts of those substances, which range from two grams for psilocybin to 15 grams for ibogaine. The substances would remain illegal for minors.
The bill is a scaled back version of a bill first filed by Weiner in January 21 that would also have decriminalized synthetic psychedelics, such as ketamine, LSD, and MDMA. And as doubts lingered over whether the bill could pass this year, Weiner amended it to add a provision requiring the California Health and Human Services Agency (CHHSA) to create a workgroup tasked with studying and making recommendations on the establishment of a framework for the therapeutic use of psychedelics.
"I'm particularly excited to see that a vote will be held for decriminalizing psychedelics, an idea whose time has come I," said Weiner."I look forward to working with my colleagues and a wide array of stakeholders to deliver these bills to the governor."
But whether Gov. Gavin Newsom (D) will sign the bill remains an open question.
"The bill does have a good shot of passing the Assembly," said former police officer and current drug counselor Marty Ribera. "But Newsom is the big one. He's looking to run for president either next year or in 2028, and being the Governor who legalized a bunch of drugs would not be a good look."
Harm Reduction
Colorado Legislative Opioid Study Committee Calls for Safe Injection Sites [24]. Lawmakers last year tried and failed to clear the way for safe injection sites last year, and this year they will be back again. The legislature's opioid study committee has called for a bill to be drafted to allow cities to create "overdose prevention centers" or safe injection sites.
The committee vote followed party lines, with Republicans opposed.
The need is evident. Opioid overdose deaths, most implicating fentanyl, rose 50 percent from 2019 to 2020 and another 27 percent from 2020 to 2021.
Safe injection sites are arguably illegal under federal law, specifically the 1986 Anti-Drug Abuse Act, which forbids the use of premises for illicit drug use—the crack house act. The Trump administration Justice Department sued to block a Philadelphia safe injection site, but the Biden Justice Department is now in negotiations that could clear the way for it to open.
Rhode Island has authorized safe injection sites, but the only locally-authorized sites opened in New York City in late 2021. And now, the US attorney there is making noises calling into question whether they can remain.
International
Peru Clashes Between Military and Shining Path Leave Six Dead [25]. Remnants of the Shining Path, a Maoist insurgency from the 1980s that left tens of thousands dead and has since devolved into players in the coca and cocaine trade, clashed with an army patrol Monday, leaving four soldiers and two Shining Path members dead.
The early morning attack by the rebel traffickers came in the province of Huanta in the Ayacucho region—the historic Shining Path stronghold.
"During the confrontation, the security forces managed to kill two terrorist criminals, who fell with their long-range weapons," the army said in a press release. "Unfortunately, during this action, four brave members of the armed forces died, whose remains will be transferred shortly to the city of Huamanga." The army said three wounded soldiers were also transferred to a nearby hospital.
Peruvian President Dina Boluarte paid tribute to the soldiers shortly afterwards on social media, referring to the Shining Path as "narcoterrorists."
The violence occurred in the Valley of Apurimac, Ene, and Mantaro Rivers (VRAEM), a center of coca cultivation and cocaine production. In 2021, the government estimated that 70 percent of the country's total coca leaf production came from the VRAEM. The VRAEM is also the last outpost of the Shining Path.