Bipartisan lawmakers urge the VA to end its ban on doctors recommending medical marijuana to vets in states where it is legal, Colorado now allows online weed sales, and more.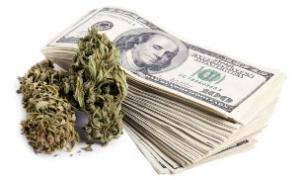 Marijuana Policy
Colorado Now Allows Online Weed Sales [17]. As of this month, Coloradans can purchase their marijuana online—but they still have to go to the pot shop to pick it up. Gov. Jared Polis (D) in June signed into law House Bill23-1279 [18], which amended the state marijuana law to allow for online sales.
The bill says: "Licensed retail marijuana store may accept payment online for the sale of retail marijuana and retail marijuana products."
"What the bill mainly aims to do, from my perspective, is reduce cash in the marijuana space, which is something that is exceedingly important to do because when there is a tremendous amount of cash in any industry, it can lead to some troubling outcomes—specifically things like robbery," said Sen. Kevin Van Winkle (D). "It sets them up for tremendous amount of potential theft, and other things."
Maryland Lawmakers Looking to Amend Marijuana Legalization Law [19]. The state's marijuana legalization law has performed admirably as the state's two-month-old legal marijuana industry nears $100 million in sales, but even so, key lawmakers are signaling that it is likely to be amended in the coming legislative session.
Maryland's cannabis industry is less than two months old and lawmakers and regulators are already contemplating tweaks in the coming General Assembly session.
"I think everybody, the governor's office, Cannabis Administration, ATCC [Alcohol, Tobacco and Cannabis Commission], and the legislators are evaluating everything to see if there's stuff," said Will Tilburg, acting director of the Maryland Cannabis Administration.
Still, Tilburg and Senate Finance Committee Chair Melony Griffith (D) said some tweaks may be attempted when the legislature reconvenes next year.
"I mean, alcohol was legalized 90 years ago with the repeal of prohibition," said Tilburg. "Every year, there's a few hundred bills related to the alcohol industry. So, we do expect that this year in the 2024 session and moving forward, we will see additional legislation to tweak this industry."
"I don't think there's any possibility we get through the '24 session without some tweaking on the cannabis," Griffith said. "This is not going to be 'We fixed it and we've solved all the issues and we'll never have a bill on this subject again.'"
But neither offered any specifics.
Medical Marijuana
Bipartisan Lawmakers Ask VA Secretary to End Ban on Doctors Recommending Medical Marijuana to Vets [20]. Three co-chairs of the Congressional Cannabis Caucus—Reps. Barbara Lee (D-CA), Earl Blumenauer (D-OR) and Dave Joyce (R-OH)—have sent a letter to Veterans Affairs Secretary Denis McDonough expressing "deep concern" that a recently updated VA marijuana directive continues to bar doctors from recommending medical marijuana to veterans in states where it is legal.
The VA "has once again denied the reality of medical marijuana as a key treatment option" for veterans with post-traumatic stress disorder (PTSD), chronic pain and other health conditions, the lawmakers wrote. The decision to continue with the "harmful policy" on medical marijuana recommendations was "alarming," they added.
"We urge you to reconsider this misguided prohibition that prevents these health professionals from considering the full range of available treatment options in consultation with their patients," the lawmakers wrote. "Giving VA providers the discretion to recommend or not recommend medical marijuana as best serves their patients would improve veterans' services and stop forcing them to self-medicate or seek care outside of the VA system," the letter says. "It would not put providers at risk of federal prosecution from the Department of Justice and its agencies."
"Many veterans already report using cannabis for medical purposes as a substitute for prescription drugs and their side effects," they added. "VA is isolated in its continued denial of this treatment option for veterans. No one is better qualified to make recommendations on care for their patients than veterans working with their VA health care providers," the letter continues. "We applaud VA's continued protection from retribution against veterans using medical marijuana. However, reaffirming the prohibition on recommendations, referrals, and forms for state-authorized medical marijuana puts stigma in the VA ahead of the needs of veterans. It is past time for VA to become a better partner in the path forward on this issue for our veterans. Instead of blocking veterans from equal access to this treatment option, VA should participate in the additional research and education we owe to patients and the public. We urge you to rethink the detrimental prohibition against providers serving their patients to the best of their ability where medical marijuana is authorized and regulated by their states."