Four veterans are suing New York marijuana regulators over the application of social equity provisions, New Hampshire's governor signs a fentanyl and xylazine test strip decriminalization bill into law, and more.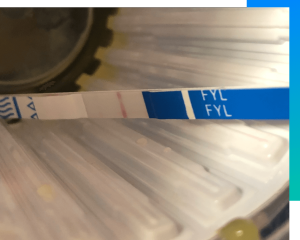 Marijuana Policy
New York Lawsuit Challenges Application of Marijuana Social Equity Provisions in State Law [20]. Four veterans have filed a lawsuit against the state's marijuana regulators, the Office of Cannabis Management and the Cannabis Control Board. The lawsuit charges that although service-disabled veterans are listed as a sub-group of social equity applicants who are supposed to be prioritized for licenses, the regulating agencies have established a process that makes having a marijuana-related criminal conviction an initial eligibility requirement, disqualifying disabled vets who would otherwise be eligible under the social equity provisions.
"The statute specifically included those individuals as individuals that would be prioritized with respect to applying for and gaining approval of an adult use retail license," said plaintiff's attorney Matt Morey. "The regulations that were then adopted, well not necessarily prohibiting any disabled service veteran from applying, they would have to then satisfy the other various CAURD (conditional adult-use retail dispensary) requirements, which is that they were convicted of a marijuana-related offense prior to March 31 of 2021," Morey said.
The lawsuit has resulted in temporary injunction from the judge in the case that bars the state from issuing any new licenses or approving any new retail outlets to open. That injunction will last at least until Friday when the judge will hear arguments about whether the current program is constitutional.
Psychedelics
Ayahuasca Church Moves to Maine [21]. A church that uses ayahuasca as a sacrament in its services has relocated from New Hampshire to Maine. The church, Pachamama Sanctuary, has obtained 40 acres of land in Casco to serve as a retreat center and spiritual sanctuary.
"People in the community come here to make a connection with the spirit, with God, higher power, whatever they decide to call it," said Derek Januszewski, founding pastor of the church.
Januszewski said the church moved not because of legal hassles in New Hampshire -- there were none -- but because of zoning problems with their old building.
Although ayahuasca contains DMT, a Schedule I drug under the Controlled Substances Act, the US Supreme Court ruled in 2006 that a small religious sect originating in Brazil, the Uniao Do Vegetal (Union of the Vegetable) was entitled under the Religious Freedom Restoration Act to use it for religious purposes. It is not clear if the Pachamama Sanctuary is part of that church.
Harm Reduction
Manhattan US Attorney Warns He Could Shut Down New York City Safe Injection Sites [22]. US Attorney for the Southern District of New York Damian Williams said Monday that two city-approved safe injection sites are operating in violation of state and federal law and that he could be forced to act if the situation does not change.
"I have repeatedly said that the opioid epidemic is a law enforcement crisis and a public health crisis," said Williams. "But I am an enforcer, not a policymaker." The situation is "unacceptable," he added. "My office is prepared to exercise all options -- including enforcement -- if this situation does not change in short order."
Although widely accepted in Europe, Australia, and Canada, safe injection are considered illegal in the US under the "crack house statute," which bars people from maintaining property where controlled substances are consumed. A Philadelphia safe injection site effort was blocked by the Trump-era Justice Department, and that case remains unresolved as the Biden Justice Department attempts to negotiate a settlement.
But faced with a growing drug overdose crisis, New York City did not wait for the resolution of that case or for lawmakers to change state law and instead okayed two safe injection sites in December 2021.
New Hampshire Decriminalizes Fentanyl, Xylazine Test Strips [23]. Late last week, Gov. Chris Sununu (R) signed into law House Bill 287 [24], which decriminalizes fentanyl and xylazine test strips by removing them from the state's definition of drug paraphernalia.
Fentanyl was implicated in 410 of the state's 486 drug overdose deaths last year.
Under previous state law, only needle exchange programs were allowed to distribute test strips. People in possession of test strips who were not needle exchange workers or clients could be charged with a misdemeanor punishable by up to a year in jail.