A House committee has approved a defense spending bill with a pair of drug provisions, the Maine Senate kills a safe injection site bill but offers a study substitute, and more.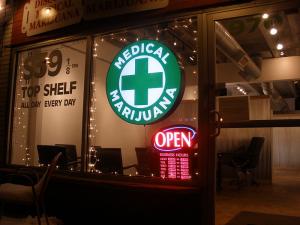 Medical Marijuana
House Committee Approves Medical Marijuana, Psychedelic Study Amendments to Military Appropriations Bill [17]. The House Armed Services Committee approved the National Defense Authorization Act on Wednesday after first accepting amendments to create a medical marijuana pilot program and mandate a study into the potential therapeutic benefits of psychedelics for active-duty military members.
Rep. Nancy Mace (R-SC) offered the medical marijuana amendment, which would create a pilot program studying the health impacts of marijuana use by veterans and service members who are Department of Veterans Affairs (VA) patients. The program would be limited to VA patients suffering from PTSD, depression or anxiety, or who have been prescribed pain management.
Rep Morgan Luttrell (R-TX offered the therapeutic psychedelic amendment.
Pennsylvania Medical Marijuana Expansion Bill Package Advances [18]. The Senate Law and Justice Committee has approved a package of bills that would broaden the state's medical marijuana program, including permitting the sale of edibles and removing the need to have a specified qualifying condition. The package won on a near-unanimous vote. The package now heads for a Senate floor vote.
Psychedelics
At Psychedelic Science Conference, NFL Quarterback Aaron Rodgers Calls for Psychedelic Legalization [19]. NFL quarterback and ayahuasca aficionado Aaron Rodgers advocated for psychedelic legalization as he addressed the Psychedelic Science conference in Denver Wednesday.
"Is it not ironic that the things that actually expand your mind are illegal and the things that keep you in the lower chakras and dumb you down have been legal for centuries?" said Rodgers.
He also discussed his use of ayahuasca, calling it "radically life-changing" and said many pro athletes had reached out to him after he spoke out earlier about his experiences. "The response from other people in the sports industry has been incredible. To see basketball players and baseball players and surfers, entertainers and my own teammates and colleagues across the league reach out and either share their story about their own medicine journey or ask to be a part of an upcoming one was pretty special."
Harm Reduction
Maine Senate Kills Safe Injection Site Bill [20]. The Senate on Wednesday killed a bill that would have allowed for safe injection sites, but advanced a different version of the bill that would require Gov. Janet Mills (D) to create a study group the issue before deciding on whether to allow them. Gov. Mills has opposed safe injection sites.