Violence continues in Ciudad Juarez in the wake of a deadly Sunday prison break, Mississippi has created a web site where residents can order free naloxone, and more.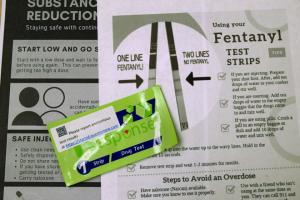 Harm Reduction
Mississippi Makes Naloxone Available for Free [15]. After nearly 600 people died of drug overdoses in 2021, the last year for which full numbers are available, the state is moving to ease access to the opioid overdose reversal drug naloxone (Narcan). The Department of Health has begun a program under which people need only log onto a state website, answer a few questions, and watch a training video, and the department will then send them a free naloxone kit. Or they can download a voucher and have it filled at a local pharmacy. To apply for the free Narcan, visit odfree.org/get-naloxone [16].
Pennsylvania Law Decriminalizing Fentanyl Test Strips Now in Effect [17]. A new law, Act 111 [18], that decriminalizes fentanyl test strips went into effect Monday. The law achieves this by amending the Controlled Substance, Drug, Device and Cosmetic Act of 1972 to no longer define the test strips as drug paraphernalia. Fentanyl test strips (FTS) are a low-cost method of helping prevent drug overdoses and reducing harm. FTS are small strips of paper that can detect the presence of fentanyl in all different kinds of drugs (e.g., cocaine, methamphetamine, and heroin) and drug forms (pills, powder, and injectables).
International
Sinaloa Cartel Gang Leader Among Those Who Escaped in Ciudad Juarez Prison Attack [19]. Among the 27 prisoners who successfully fled a Ciudad Juarez prison as it was attacked Sunday was Ernesto "El Neto" Pinon, the long-imprisoned leader of the Mexicles, a Juarez gang affiliated with the Sinaloa cartel. The attack and jailbreak left 10 guards and seven prisoners dead, with two escaped prisoner later killed by authorities. Pinon had been jailed at the prison since 2010 on a 224-year sentence for murder. Authorities blamed the prison assault on the Mexicles, saying it was attacked by at least 25 of them. Also among the escapees was the Mexicles' number-two man, Cesar Vega.
Death Toll Rises as Mexican Authorities Hunt Down Juarez Prison Attackers, Escapees [20]. At least seven people were killed in a gunfight as Chihuahua state investigators worked to hunt down the perpetrators of Sunday's attack on a Ciudad Juarez prison, as well as 25 prisoners who escaped. The attack was orchestrated by the Mexicles, a Juarez gang long affiliated with the Sinaloa cartel, who long-imprisoned leader and his number two were among the escapees. In the Tuesday shootout, two state investigators and five Mexicles members died.