A federal judge throws out a lawsuit seeking gun ownership rights for medical marijuana patients, competing Bolivian coca grower factions prepare to clash again this week, and more.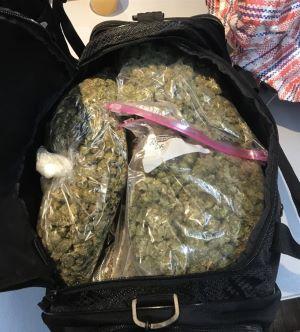 Marijuana Policy
New York Recreational Marijuana Sales Licenses Coming Soon [16]. The chief of staff of the state's Cannabis Control Board said last Thursday that the first set of Conditional Adult Use Retail Dispensary (CAURD) licenses will likely be issued at the board's next meeting on November 21. Axel Bernabe said the state was "in position" to issue the licenses then. He said the board had scored applications and will recommend that applicants representing the "top of the class" will be recommended for approval. Bernabe's comments were echoed by board chair Tremaine Wright, who said "we are on target" to open the first shops before year's end.
Medical Marijuana
Federal Judge Dismisses Florida Agriculture Commissioner's Lawsuit on Medical Marijuana Patients' Gun Rights [17]. A federal judge last Friday rejected a lawsuit from Florida Agriculture Commissioner Nikki Fried (D) that challenged the federal ban on medical marijuana patients' ability to buy and possess firearms. The Biden Justice Department had moved to dismiss the case last month, arguing that people who use medical marijuana are violating federal law and thus can be denied the right to have guns.
Judge Allen Winsor agreed, telling plaintiffs they "have standing but their claims fail on the merits." The judge acknowledged a congressional rider blocking federal prosecution of state-legal medical marijuana patients, but said that does not alter his decision. "Regardless of whether Plaintiffs are prosecuted (or whether Congress allocates funds for their prosecution), possession of marijuana remains a federal crime," Winsor held. "The Rohrabacher-Farr Amendment at best precludes prosecution now; it does not forever bless Plaintiffs' actions."
International
Bolivia Coca Conflict Continues [18]. A coca grower union faction that is demanding the closure of an unofficial coca market linked to a different, government-backed grower faction has announced plans to stage street demonstration and roadblocks in various areas of La Paz beginning today. The faction said the protests would continue indefinitely and that it would not announce roadblock locations in advance. The conflict has festered for months and has resulted in various bouts of street fighting between the factions and between the factions and security forces. In one incident, the "parallel" market linked to the pro-government faction was burned to the ground by the anti-government faction.
Irish Task Force Recommends De Facto Decriminalization for Addicts, Mentally Ill [19]. A high-level task force examining mental health and drug addiction has recommended that police be given the discretion to ticket some drug users instead of arresting and jailing them. People who are addicted to drugs or who suffer from mental illness would be eligible for the diversion from the criminal justice system provided their drugs are for personal use.
Justice Minister Helen McEntee said the government is willing to work through the plan, but warned it could be tricky to implement. "We have, as a government and not just this governmengovernments, agreed to look at this from a public health perspective in trying to work with and support people who have addiction problems," said McEntee. "Really this is just another iteration of that. It is not straightforward. "How do you differentiate and how do you look at people who have addiction problems and then other issues as well? But it is something we will work through as part of the recommendations."