A trio of marijuana bills are on the California governor's desk, New York City cocaine users are adopting fentanyl test strips, Colombia's new president announces a coca growers' assembly, and more.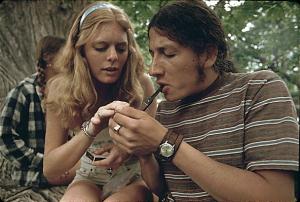 Marijuana Policy
Gallup Poll Finds Marijuana Use at All-Time High [20]. A new Gallup poll has marijuana use at a record high—and for the first time, more Americans reported smoking marijuana than smoking cigarettes. The new poll has 16 percent of respondents smoking marijuana within the past week, up from 12 percent a year ago and more than double the historic low of seven percent. The number of people who reported cigarette smoking in the past week was 11 percent. That's down from 16 percent last year and a whopping 45 percent during cigarette smoking's peak in the 1950s.
California Interstate Marijuana Commerce, Other Pot Bills Go to Governor's Desk [21]. Bills to create a framework for interstate marijuana commerce, streamline expungement for past marijuana convictions, and safeguard companies providing insurance to the legal marijuana industry have all passed out of the legislature and are on the desk of Gov. Gavin Newsom (D). A passel of other marijuana bills are also advancing as the session end approaches. The interstate commerce bill is Senate Bill 1326 [22], the marijuana convictions bill is Assembly Bill 1706 [23], and the insurance bill is Assembly Bill 2568 [24].
Harm Reduction
Fentanyl Test Strips Are 'Catching On' Among Cocaine Users [25]. Rising overdoses are prompting some drug users to make testing their stashes for the presence of fentanyl a regular part of their drug-taking ritual. New York City cocaine users say their fear of overdosing on fentanyl-contaminated cocaine has made them wary of using any cocaine that has not been tested. Dozens of bars, clubs, and restaurants in the city are now offering fentanyl test strips as well. A Lower East Side taco restaurant owner said he began stocking the strips this spring after two people he knew died from fentanyl-adulterated cocaine. "It was a no-brainer for us," he said. "When we first put them out, we had customers say, 'What is that?' They were like, 'Let me get one for my friend,'" Mr Tirado said. "It's catching on."
New Mexico Now Providing Fentanyl Test Strips [26]. Thanks to a change in the state's Harm Reduction Act, state officials are now distributing fentanyl test strips by the thousands. The Department of Health has handed out 15,000 test strips since May and has already ordered another 30,000. At least 1,215 people in the state have died from an overdose involving fentanyl since 2019, but more than 12,000 people have been saved from overdoses by the opioid overdose reversal drug naloxone.
Psychedelics
DEA Walks Back Plan to Ban Two Obscure Psychedelics [27]. The DEA has backed away from plans to place two obscure psychedelics, DOI (dimethoxy-4-iodoamphetamine) and DOC (dimethoxy-4-chloroamphetamine), on Schedule I of the Controlled Substances Act. The retreat came after the proposal encountered strong opposition about psychedelic companies and academic researchers. The Panacea company filed a motion requiring the DEA to respond by today, with the possibility of a public hearing to defend its proposal. Instead, the DEA folded without stating any specific reasons.
International
Colombia President Announces First Assembly of Coca Growers [28]. President Gustavo Petro announced last Friday that the country's first assembly of coca growers will be held in the Catatumbo region in the northwest of the country. "I propose you to get out of that first place (in hectares of coca) last year and build the peace capital of Colombia. That here in Catatumbo the talks of society can be developed and that somewhere talks can begin to leave the weapons behind and move to the era of peace," he said. "I have admitted the idea of carrying out in Catatumbo the first assembly of coca leaf farmers (…) with one intention: to show this government the ways (…) that allow us to achieve that a peasant family that today is dedicated to coca leaf can substitute this for an activity that guarantees them more quality of life", he explained to local residents. Colombia is the world's largest coca and cocaine producer.