In an election that has overturned a decades-long status quo in Colombian politics, former leftist guerrilla and Bogota mayor Gustavo Petro won the presidency on Sunday. He beat his competitor, Trumpian businessman Rodolfo Hernández, by a margin of 50.44% to 47.03% [18], with 100 percent of the votes counted.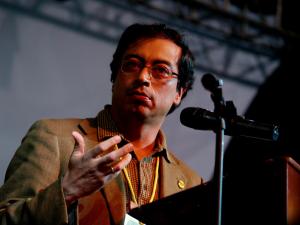 Petro's victory is the latest win in a Latin American "pink tide," with leftists recently winning presidential elections in Bolivia, Chile, Honduras and Peru, and poised to take power once again in Brazil.
What to do about the country's booming coca and cocaine trade and the violence that surrounds it was a central theme in the campaign -- with both candidates critical of a war on drugs intertwined with a ferocious counterinsurgency financed by the United States to the tune of $20 billion since the days of Plan Colombia and paid for with the blood of hundreds of thousands of Colombians.
Even the conservative Hernández, a wealthy real estate developer, suggested giving drugs to addicts as a means of ending drug trade violence. "If we give drug addicts free drugs, be it intravenous, aspiration, or oral, then the demand is over. Nobody buys again," Hernández said [19] in a campaign speech last week. "And if they don't buy [drugs] because we give them to users, the sale is over and the drug is over."
Petro, for his part, has called for legalizing marijuana. "The issue of marijuana seems stupid to me to keep it underground," he said [20] in a recent interview. "Ex-presidents' relatives do the business of exporting legal marijuana and, on the other hand, they throw bombs at the peasants and their children who produce marijuana in [the southwestern province of] Cauca. The possibility of legal exportation of marijuana for recreational and medicinal purposes through licenses from the national government has friends with political power in Colombia. If Colombia does not get its act together, we're going to lose that business."
But he has also been harshly critical of broader drug prohibition. Last month, he asked [21] whether "the million dead Latin Americans -- the majority Colombians and Mexicans -- has been worth it. Drugs are so demonized that it's politically correct to say 'let's ban them and start a war,' but we never consider the consequences."
Colombia "doesn't need more violence" to stop the drug war, he said [22]. "The drug war is fought with capitalism. It is not with lead or with more violence."
He advocates for voluntary crop substitution instead of forced eradication for coca farmers and has promised [23] to use marijuana as a substitute crop.
His position on coca and cocaine legalization was artfully unclear during the campaign, but there is a bill [24] that would authorize a pilot project to directly buy coca from farmers in areas hardest hit by drug trafficking and state violence and allow the government to set a legal coca market price. While the bill gained some backing since in was introduced in 2020, it has languished in limbo under the anti-reformist outgoing President Ivan Duque. Whether the bill will now move under Petro will be an early indicator of his policy positions.
Sanho Tree is director of the Drug Policy Project at the Washington, DC-based Institute for Policy Studies, and has been studying and traveling to Colombia for years. He was nearly at a loss for words.
"I'm still processing this," he told the Chronicle. "I didn't expect him to live this long, much less win. But they fear the vice president [the country's first female Afro-Colombian to hold the office, Francia Márquez [25]] even more, so that's sort of an insurance policy. It's been 20 years of disappointment, horrors, and setbacks, so this is just a moment of unbridled joy," he said.
"This is a step forward for drug policy, human rights, and civil society, and you have Chile and Brazil -- if Lula wins as it looks he will, there will be a powerful triangular bloc in South America that could eclipse even US influence," Tree said.
And that's not the only potential new alignment Tree foresees. "With Bolivia and Peru, and now Colombia, we could see a regional coca bloc," he said.
And unlike his predecessor, said Tree, Petro will take the 2016 peace accords with the FARC seriously and actually try to implement them. The accords were supposed to bring peace to the countryside, but were opposed by Duque, and once the FARC demobilized, violent rightist paramilitaries and leftist guerrilla factions filled the vacuum as the state failed to provide promised alternative development assistance.
"Duque is an Uribista [ally of former ultra-conservative President Alvaro Uribe, who has been linked [26] to the rightist paramilitaries] and hated the guerrillas," Tree said. "He never wanted peace and he sure wasn't going to help any of them. It was a huge opportunity lost and there was a huge sense of betrayal. In many ways, it is as dangerous as ever for NGOs and human rights defenders, and the state has done nothing. They should have seized the opportunity in 2016, but it was all about Trumpian vengeance instead."
Petro will "take the peace treaties seriously," Tree said. "He will invest in rural communities, and that will make a big difference in daily life for people. Right now, it makes a lot of sense for farmers to grow coca because it is such a valuable crop, but it is also very violent and dangerous. Many farmers would rather not be in that business, and if they don't have to participate in that economy, that could be really helpful."
Tree pointed to the positive experience of Bolivia under Evo Morales.
"With Morales in Bolivia, instead of forced eradication and violence, they stopped that and went a regulated supply -- 40 square meters per family -- and that allowed them to have food security and a predictable income stream, and that allows people to diversify local economies. You can do these kinds of economic experiments once you have a little food security."
Also, said Tree, "fumigation will be off the table."
There is an opportunity for positive change in Colombia, especially around drug policy. Now, it is time for Petro to prove himself.