A new CBS poll shows continuing strong support for marijuana legalization, Honduras is becoming a coca and cocaine production center, and more.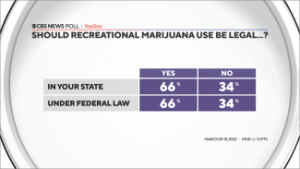 Marijuana Policy
CBS Poll: Two-Third of Americans Want Marijuana Legalized Federally and in Their States [15]. A new CBS/YouGov poll is remarkably consistent with other recent national polls, finding that 66 percent of Americans want marijuana to be legal at both the federal and state levels. The poll also found broad acceptance of marijuana businesses, with just 30 percent saying they would oppose such a business. The level of support for state-level legalization was identical to the level of support for federal legalization.
Missouri Marijuana Legalization Bill Heads for House Floor Vote [16]. The House Legislative Oversight Committee has voted to approve a marijuana legalization bill, House Bill 2704 [17], but only after adding several "poison pill" amendments, including one that would exclude transgender women from accessing no-interest loans available to women and minorities applying for cannabis business funding. Bill sponsor Rep. Ron Hicks (R-Defiance) and committee Democrats said they passed the bill with the amendments in hopes they would be stripped out on the House floor.
Medical Marijuana
South Carolina Medical Marijuana Bill Heads for House Floor Vote [18]. A medical marijuana bill, the Compassionate Care Act (House Bill 3361 [19]) passed out of the Committee on Medical, Military, Public and Municipal Affairs Tuesday and now heads for a House floor vote. Identical companion legislation has already passed the Senate. The bill from Sen. Tom Davis (R) has been under consideration since January 2021.
Louisiana Bill to Ease Access to Medical Marijuana Heads for House Floor Vote [20]. A bill to expand access to medical marijuana by changing the agency that regulates the industry and adding the University of Louisiana at Monroe to the list of facilities that can do research on medical marijuana, House Bill 418 [21], passed the House Health and Welfare Committee and now heads for a House floor vote. The bill also would expand the number of licenses from 10 to 25, with 30 percent of the new licenses set aside for social equity applicants.
International
Honduras Sees Proliferating Coca Growing, Cocaine Labs [22]. After years of low-level test plots, coca production and cocaine labs are proliferating in the Central American nation of Honduras, far from coca's traditional home in the Andes. Authorities reported destroying more than half a million coca plants in the first three months of this year alone, more than seized in all of 2021. One coca farm extended over 42 acres and held 345,000 plants, as well as three cocaine labs capable of producing 50 kilograms of cocaine every month. Most of the planting is going on in the mountains of Colon and Olancho departments but is also spreading to the nearby departments of Yoro and Gracia a Dios. The first large coca farm in the country was found just five years ago.
Singapore Set to Execute Mentally Disabled Malaysian Drug Offender [23]. A Malaysian man who defenders say is mentally disabled is set to be hung next week after losing a final appeal. Nagaenthran K. Dharmalingam was sentenced to death in 2010 for trying to smuggle less than 1.5 ounces of heroin into the city-state. His case has sparked widespread condemnation, including from the European Union. The Anti-Death Penalty Asia Network has also called for a halt to the execution. Singapore had enacted a moratorium on executions during the coronavirus pandemic, but that ended just weeks ago with the execution of another drug offender.
Swiss Pilot Project to Allow Marijuana Sales from Pharmacies Gets Green Light [24]. A plan to allow a few hundred people in Basel to buy marijuana in pharmacies has gotten the go-ahead from the Federal Office of Public Health. This is the first marijuana pilot project to be authorized since the country cleared the way for them last May. The Federal Office of Public Health says the goal of the projects is to heighten understanding of "alternative regulatory forms" that could be the basis for future legalization legislation. The program will get underway in midsummer, with 400 participants able to get marijuana products. The program will last 2 ½ years, with participants questioned regularly about their consumption and their physical and mental health.