The House on Friday voted to legalize marijuana, the second time it has done so in two years. House Judiciary Committee Chair Jerrold Nadler's (D-NY) Marijuana Opportunity, Reinvestment and Expungement (MORE) Act (HR 3617 [12]) passed 220-204, with only a handful of Republican votes.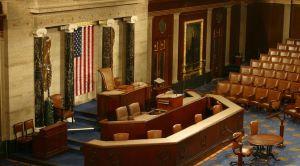 The prospects for passage of the bill into law remain clouded, however; it would need 60 votes to pass in the Senate, and there is
little sign the votes are there
[13]
. Nonetheless, Senate Majority Leader Chuck Schumer (D-NY) is expected to file his own version of marijuana legalization bill this month.
Meanwhile, a measure that would bring much needed relief to the legal marijuana industry by providing it access to banking and other financial services, the SAFE Banking Act (HR 1996 [14]), remains stalled. Even though the bill has passed the House six different times, Leader Schumer refuses to allow it to be attached to must-pass appropriations bills, arguing that Congress should first pass a comprehensive legalization bill.
Still, winning a marijuana legalization vote in one chamber of Congress is a historic step and sign that at least one of our representative bodies is in tune with public opinion, which consistently shows two-thirds support [15] for it in polling data.
"The Marijuana Opportunity Reinvestment and Expungement Act, or the 'MORE Act,' is long overdue legislation that would reverse decades of failed federal policies based on the criminalization of marijuana. It would also take steps to address the heavy toll these policies have taken across the country, particularly among communities of color," Nadler told the House [16] during the debate.
"For far too long, we have treated marijuana as a criminal justice problem instead of as a matter of personal choice and public health. Whatever one's views are on the use of marijuana for recreational or medicinal use, the policy of arrests, prosecution, and incarceration at the Federal level has proven both unwise and unjust," he continued.
"That is why the MORE Act would set a new path forward and would begin to correct some of the injustices of the last fifty years. The bill decriminalizes marijuana at the federal level, by removing it from the Controlled Substances Act. This change applies retroactively to prior and pending convictions. It does not, however, undermine the ability of states to apply their criminal laws to marijuana or to legalize and regulate it, as they see fit," Nadler added.
The Act also provides for the expungement or resentencing of those with nonviolent federal marijuana convictions, promotes diverse participation in the state-regulated cannabis industry, and helps repair the racially and economically disparate harms caused by America's past prohibition policies. According to a just-released Congressional Budget Office analysis [17], passage of the Act would increase revenues by over $8 billion in ten years and would also significantly reduce federal prison costs.
Marijuana activist groups hailed the vote.
"This vote is a clear indicator that Congress is finally listening to the vast majority of voters who are sick and tired of our failed marijuana criminalization policies and the damage they continue to inflict in communities across the nation every day," said NORML's Political Director Morgan Fox in a statement [18]. "It is long overdue that we stop punishing adults for using a substance that is objectively safer than alcohol, and that we work to address the disparate negative impacts that prohibition has inflicted on our most vulnerable individuals and marginalized communities for nearly a century."
"The time has come for federal lawmakers to put aside partisan differences and recognize that state-level legalization policies are publicly popular, successful, and are in the best interests of our country. Now that the House has once again supported sensible and comprehensive cannabis policy reform, we strongly urge the Senate to move forward on this issue without delay," Fox added.
"The fact that the House has repeatedly passed the MORE Act is indicative of the cannabis policy movement's evolution and the growing momentum toward comprehensive reform at the federal level," said Marijuana Policy Project president and CEO Toi Hutchinson in a statement [19]. "While this is historic in nature and warrants praise, it is necessary to also recognize that the fight is still far from over. To this day, people across the country are still experiencing the damaging effects of the war on cannabis, while others are profiting in the industry. Following today's action in the House, it is now time for the US Senate to follow suit and take up the MORE Act. We at the Marijuana Policy Project remain committed to ending cannabis prohibition for all and will continue to fight until that becomes our reality."
Once the Senate does take up the MORE Act or another marijuana legalization bill and in all likelihood fails to pass it, perhaps then Schumer will allow the SAFE Banking Act to move, which would actually get something significant accomplished on marijuana policy this year.