Medical marijuana bills advance in Georgia and Kentucky, Honduras' former "narcopresidente" is a step closer to being extradited to the United States on drug charges, and more.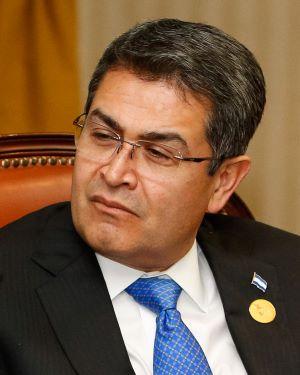 Marijuana Policy
Rhode Island Governor Has "Concerns" About Marijuana Legalization Bill's Cannabis Control Commission [20]. Gov. Dan McKee (D) has "significant constitutional concerns" with Senate Bill 2430 [21], the marijuana legalization bill backed by House and Senate leadership. The concerns are around the proposed three-member cannabis control commission's members are to be appointed—and removed if necessary. The governor's office argues that the bill would give the Senate "unfettered discretion" on whether to remove a commissioner, which is says is a violation of the separation of powers. But one of the key sponsors of the bill, which was crafted after long deliberation, Sen. Joshua Miller (D-Cranston), said the governor's objection is not an insurmountable obstacle. "It's not a big impediment," said Miller. "It's solvable."
Medical Marijuana
Georgia House, Senate Pass Separate Medical Marijuana Bills [22]. The House approved a bill to revamp the state's dysfunctional medical marijuana system, House Bill 1425 [23] on Tuesday. The bill would allow the provision of low-THC cannabis oil "from any available legal source" by August 1 and begin providing it to patients now on the state registry by August 15. The state had passed a low-THC cannabis oil law in 2015, but legal challenges have left Georgians without any legal supply. The Senate, meanwhile, approved its own medical marijuana bill, Senate Bill 609 [24], which would require the medical cannabis commission to issue its initial licenses by May 31. Tuesday was the last day for bills to pass their original chamber, so both bills remain alive.
Kentucky House Approves Medical Marijuana Bill [25]. The House on Thursday approved House Bill 136 [26], which would legalize medical marijuana in the state. The legislation now heads to the Senate. This is the third try for bill sponsor Rep. Jason Nemes (R), who got a similar bill through the House in 2020 only to see in die in the Senate and whose 2021 effort got nowhere in the midst of the pandemic. The bill now heads to the Senate, where Senate Judiciary Chairman Whitney Westerfield (R) says he will back it despite personal reservations.
Psychedelics
California Psilocybin Legalization Initiative Falls Short on Signatures [27]. Decriminalize California, the group behind a psilocybin legalization initiative campaign, announced Wednesday that it had failed to gather enough valid voter signatures to qualify for the November ballot. The all-volunteer effort faltered during the winter outbreak of the omicron variant of the coronavirus. "We were doing great there collecting and then in mid-December just about everyone of our core volunteers got COVID and most of the events we were scheduled at either closed, postponed or had an extremely weak turnout," campaign manager Ryan Munevar said in an email to supporters. The group will now do fundraising in coming months to determine whether it is feasible to start a second effort in either June or October of next year for 2024.
International
At Urging of US, CND Acts Against Precursor Chemical Used to Produce Illicit Fentanyl [28]. The UN Commission on Narcotic Drugs (CND) voted Friday to control three chemicals used by drug traffickers to produce illicit fentanyl, a powerful synthetic opioid that is driving overdose deaths in the United States. At the request of the United States, and with the recommendation of the International Narcotics Control Board, the Commission's Member States voted unanimously to take international action and control the acquisition, production, and export of three precursors used to manufacture illicit fentanyl and its analogues. "President Biden has made clear that ending the overdose epidemic is a top priority. As part of the Administration's efforts to reduce the supply of illicit fentanyl driving overdose deaths, the United States called on the global community to regulate three chemicals commonly used to produce it, and today that call was answered," said Dr. Rahul Gupta, Director of the White House Office of National Drug Control Policy (ONDCP). "This new action makes it more difficult for drug traffickers to obtain and use these chemicals for illicit purposes. It will also help disrupt synthetic drug trafficking that not only leads to deaths caused by overdose, but also corruption, drug-related violence, and insecurity. The collective work of the international community to address global drug-related challenges has never been more important. The Biden-Harris Administration is committed to building on today's progress."
Honduran Judge Okays Extradition of Former President to Face US Drug Charges [29]. A judge in Honduras has ruled the former President Juan Orlando Hernandez can be extradited to the United States to face drug charges. Hernandez was president from 2014 until last month, after he lost an election, and was considered a US ally even though federal prosecutors alleged he was involved in drug trafficking throughout his presidency. He was detained last month by the new government at the request of the US. The "narcopresidente" has until Saturday to appeal the Wednesday ruling, after which he could be extradited. Meanwhile, he remains in prison in Honduras.
War Deepens Suffering for Ukraine's Drug Users [30]. Drug users in the country are facing shortages of methadone and street drugs as the Russian military campaign in the country disrupts daily life. "Today, I went around five pharmacies where I used to get methadone on prescription. None were open. Another place was open today, but there was a queue of at least 200 people and I didn't want to go into withdrawal right there, and so I went home," one drug user said. In the city of Kyiv, there were 45 fee-based centers serving opioid-dependent patients each; now they are all closed after the doctors evacuated. Similar clinics in the Crimean Peninsula were shut down when Russian forces took over in 2014; since then, of approximately 800 Crimean methadone patients, at least 80 have killed themselves, died of fatal overdoes, or died of other narcotic causes.