Busy, busy, busy. Crooked pot-robbing California deputies, a pervy Pennsylvania DARE officer, a gun-stealing heroin addict Connecticut cop, and more. Let's get to it: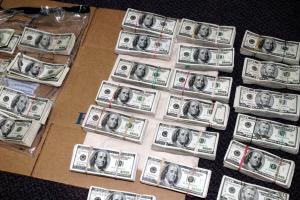 In Columbia, South Carolina,
a jail guard at the MacDougall Institution was arrested March 24
[10]
for allegedly conspiring with inmates to smuggle cellphone, cigarettes, and marijuana into the jail. Guard Jatuane Malik Huggins, 24, supposedly got $1,500 for his efforts, but now faces a charge of furnishing contraband to inmates. And he's been fired.
In Houston, a Harris County deputy constable was arrested last Tuesday [11] for allegedly laundering more than $300,000 in drug money. Deputy Constable Alexander Reyes faces charges of conspiracy to distribute cocaine and possession of cocaine with intent to distribute. He's looking at 10 years to life in prison.
In Doylestown, Pennsylvania, a former Warrington Township DARE officer was arrested last Wednesday [12] for allegedly molesting at least four boys who were in the DARE program between 1996 and 2009. James Carey, 52, is accused of molesting the boys during camping trips and at a local recreation center. He's been charged with 122 counts of involuntary deviate sexual intercourse, unlawful contact with a minor, statutory sexual assault, official oppression and related offenses.
In Fort Myers, Florida, a guard at the Charlotte Correctional Institution was arrested last Thursday [13] for plotting to smuggle drugs into the jail. Guard Leslie Spencer, 48, allegedly agreed to smuggle three ounces of methamphetamine, three ounces of MDMA, a small amount of synthetic marijuana, and two cellphones into the prison and provide it to an inmate in exchange for a payment of $400. It was a sting operation by the FBI, and now Spencer faces a charge of attempted possession with the intent to distribute controlled substances. If convicted, he's looking at up to 20 years in federal prison.
In New York City, an NYPD officer was arrested Monday [14] for selling weed and another, unspecified drug. Officer Catherine Soto, 31, is charged with criminal sale of a controlled substance, criminal sale of marijuana, official misconduct, criminal possession of a controlled substance and unlawful possession of marijuana, police said.
In Pensacola, Florida, an Escambia Road Prison guard was arrested Monday [15] for allegedly smuggling drugs into the jail. Guard Byron Jermaine Banks, 29, was a camera operator at the prison and allegedly used his knowledge of the surveillance system to find blind spots where he could pass drugs to inmates. He went down after the inmate he gave drugs to got caught and gave him up. He's facing two felony counts of smuggling contraband into a detention facility.
In Greenwich, Connecticut, a former Greenwich police officer pleaded guilty Monday [16] to stealing guns from another police department to help feed his heroin habit. In two separate incidents, Joseph Ryan, 57, stole five guns from one department and three guns from another and gave them to his dealer. He pleaded guilty to once count of possession of firearms by an unlawful user of a controlled substance. A sentencing date has not yet been set.
In Houston, a former Houston police officer was sentenced March 25 [17] to 87 months in federal prison for stealing drugs during a traffic stop. Julissa Diaz, 41, went down during an internal affairs sting in 2017. She pleaded guilty to conspiracy to distribute cocaine.
In Los Angeles, a former LA County sheriff's deputy was sentenced Monday [18] to seven years in federal prison for staging a fake drug raid of a warehouse and stealing more than 1,200 pounds of marijuana and $600,00 in cash. Marc Antrim, 43,pleaded guilty two years ago to five felonies, including conspiracy, possession with intent to distribute marijuana, and deprivation of rights under color of law. He also agreed to forfeit a Mercedes-Benz sedan, and cash and money orders taken in the October 2018 robbery. He is the last of six people charged in the scheme. All of the others have been sentenced to various prison sentences of up to 14 years.