With marijuana prohibition mortally wounded and on its last legs in the United States -- only Idaho, Kansas, and Nebraska still allow no form of legal marijuana -- the next frontiers are beginning to open up. Last week, we looked at the spread of interest in the loosening of laws around psychedelics, with eight states [15] seeing legislation this year. This week, we will turn our attention to the spread of broader efforts toward drug decriminalization.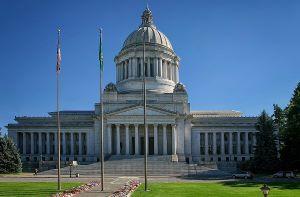 With both psychedelic drug reform and broader drug decriminalization, voters in Oregon led the way, continuing a tradition of pioneering drug reform that began when it became
the first state to decriminalize weed
[16]
back in 1973 and was among the earliest to adopt medical marijuana (1998) and marijuana legalization (2014). Last November, they broke new ground again by approving
Measure 109
[17]
legalizing therapeutic psilocybin use and
Measure 110
[18]
decriminalizing the possession of personal use amounts of all drugs.
With Oregon leading the way, legislators in other states are now taking up the cause. As with marijuana legalization, getting bills actually passed will likely prove to be an arduous, multi-year task, but you have to start somewhere, and here's where it's starting this year (with a big tip of the hat to Marijuana Moment, which provides a list of marijuana, psychedelic, and other drug reform bills [19] to its paying subscribers):
Kansas -- Drug Decriminalization with an Authoritarian Twist
Twenty-year-old freshman Rep. Aaron Coleman (D-Kansas City), who ran on a fairly progressive platform, has filed House Bill 2288 [20], which would indeed decriminalize drug possession, replacing a criminal charge with a maximum $100 fine, as well as reducing penalties for drug manufacture and distribution. But the bill also mandates forced drug treatment -- "the county or district attorney shall refer such person for participation in the certified drug abuse treatment program… or another drug abuse treatment program available in the community" -- and creates a new crime of failing to comply with drug treatment. That would be a misdemeanor punishable by up to five days in jail, six months on probation, and a $250 fine. The bill was introduced February 9 and assigned to the House Committee on Corrections and Juvenile Justice, where it has sat without action ever since.
Maryland -- Decriminalization of Drug Paraphernalia
A bill that would decriminalize the possession of "drug paraphernalia to inject, ingest, inhale, or otherwise introduce into the human body a controlled dangerous substance," Senate Bill 0420 [21], was approved by the Senate on March 4. Meanwhile, a companion measure, House Bill 0372 [22], has passed the House, and that bill is now before the Senate Judicial Proceedings Committee.
New York -- Drug Decriminalization
State Senator Gustavo Rivera (D, WF-The Bronx) has filed Senate Bill 1284 [23], which "[e]liminates criminal and civil penalties for possession of controlled substances; establishes the drug decriminalization task force to develop recommendations for reforming state laws, regulations and practices so that they align with the stated goal of treating substance use disorder as a disease, rather than a criminal behavior." The bill is in the Senate Codes Committee, where it has sat unmoving since it was filed in January. The House version of the bill, Assembly Bill 6583 [24], died on March 24, when its sponsor, Assemblywoman Linda Rosenthal (D-Manhattan), removed her support for it. Maybe next year.
Vermont -- Drug Decriminalization
House Bill 422 [25], which currently has 14 cosponsors, would create a board with the Department of Health to set personal use and personal supply quantities and subsequently decriminalize the possession or supply of amounts under those limits. Violations would be punishable by no more than a $50 fine, which could be waived if the person agrees to a drug screening. It was introduced on March 10 and has been in the Committee on Human Services ever since.
Virginia -- Drug Decriminalization Study
A bill that would have directed "the Virginia State Crime Commission to study the propriety and effectiveness of alternative approaches to the Commonwealth's enforcement scheme for the possession of controlled substances, including decriminalization of the possession of such substances," House Bill 530 [26], was introduced in January but killed in a House Rules Committee subcommittee in February.
Washington -- Drug Decriminalization
In February, the state Supreme Court lobbed a bomb into the criminal justice system when it ruled the state's felony drug possession law unconstitutional [27] on the grounds that, unlike all other state criminal laws, it didn't require defendants to "knowingly" possess drugs. That inspired at least three legislative attempts to remedy the situation: Senate Bill 5471 [28] to decriminalize unknowing drug possession; Senate Bill 5475 [29] to make knowingly possessing drugs a crime but also create a working group to study drug possession laws; and Senate Bill 5468 [30], which would simply refelonize drug possession. But before the court decision and all the bills it has lately inspired was a pure decriminalization measure, House Bill 1499 [31]. It's still alive, having passed the House Public Safety Committee in February, and is now before the House Appropriations Committee.
If any drug decriminalization bills in the states actually get passed and signed into law this year, that would be a pleasant surprise, but they are now beginning to pop up like they never did before. Getting things done through state legislatures is a frustrating and time-consuming process, as we see when it gets to trying to pass something as popular as marijuana legalization. With marijuana legalization, the early successes came from the initiative process, not state legislatures. Decriminalization victories may well come first from the voters, as in Oregon, not lawmakers. And that could make the prospects for next year better than this year.