Our October 27th event with Movement for a Free Philippines, "Autocrat Fair [13]," launched the "Stand with Human Rights and Democracy [14]" campaign -- a pro-democracy, pro-human rights movement branching from our work on the Philippine drug war killings [13].
The event also featured a statement [15] provided by Democracy for the Arab World Now [16] (DAWN), an organization found by journalist Jamal Khashoggi before his assassination in Istanbul by Saudi agents; and a statement [17] from US Congressman Jamie Raskin (D-MD).
Click here [18] to watch our YouTube playlist, or visit the Stand with Human Rights and Democracy (also known as "Stand Global") web site [19]. Read our post-event press release here [20]. Please also watch the campaign's first video, "Trump and Duterte -- Allies in Violence [21]" (YouTube [22] and Facebook [23] copies).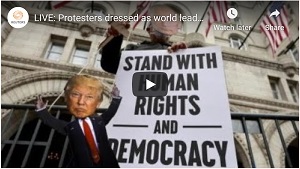 [13]
United Press International (UPI) photos here [24].
Photos by Conrado Muluc [25]: