The Pennsylvania Supreme Court clarifies that state officials can't order drug tests as part of child welfare investigations, Senate Republicans roll out their version of a police reform bill, and more.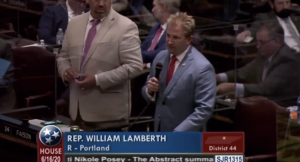 Marijuana Policy
Sole Tennessee Lawmaker Blocks Resolution to Honor Murdered Teen Over Alleged Marijuana Sale [16]. A resolution honoring the life of 17-year-old black girl Ashanti Posey, who was fatally shot in April, was blocked by a single Republican lawmaker, Rep. William Lamberth, who said he could not support the measure because she had allegedly been involved in a low-level marijuana deal before she was killed. The resolution required unanimous consent and had already passed the state Senate. Lamberth's one-man veto sparked angry cries of "black lives matter" in the chamber, and some lawmakers walked out in protest.
Drug Testing
Pennsylvania Supreme Court Rules State Officials Can't Order Drug Tests as Part of Child Welfare Investigations [17]. In a case involving a Republican district attorney accused of child abuse, the state's highest court has ruled that state officials may not order drug tests as part of a child welfare investigation. The court held unanimously that the state's Child Protective Services Law does not "expressly or implicitly authorize collecting samples of bodily fluids, without consent, for testing." The child welfare agency in Fayette County had been requiring such tests despite the lack of a legal basis for doing so. Now, it has stopped.
Law Enforcement
Seattle City Council Takes Up Bill to End Loitering Charges Related to Drugs, Prostitution [18]. Councilmember Andrew Lewis filed a pair of bills Monday to eliminate the charge of loitering when used to try to enforce drug or prostitution laws. Loitering laws, which emerged as part of the war on drugs in the last century, allow police to arrest people they merely suspected of being drug dealers or prostitutes. The bill has support from some other council members, as well as City Attorney Pete Holmes, who helped draft it. "This is an outdated, and frankly racist policy in our City's municipal code." Councilmember Tammy Morales said. "By repealing this part of the code we are assured that drug offenders and sex workers will be treated humanely and not criminalized." The bills go to a vote at the council's next meeting on Monday.
Law Enforcement
Senate Republicans Unveil Policing Reform Bill [19]. Senate Republicans on Wednesday rolled out their version of a police reform bill, which is called the Justice Act [20]. Democrats in the House last week filed their version of a police reform bill, the Justice in Policing Act of 2020 [21]. The Republican bill would discourage but not ban tactics such as no-knock warrants or chokeholds, while the Democrats take a tougher approach. The Democratic plan mandates certain policing practices, while the Republican plan avoids such mandates, instead incentivizing law enforcement agencies to curtail such practices by withholding federal funding for departments that allow them or do no report on them.