The ACLU issues a timely report, Human Rights Watch and Amnesty International call for reforms of Cambodia's drug detention centers, and more.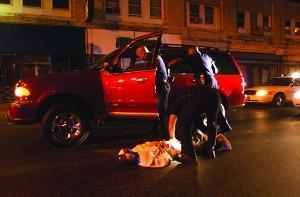 Marijuana Policy
New ACLU Report Highlights Racial Bias in Marijuana Policing [16]. The new report, A Tale of Two Countries: Racially Targeted Arrests in the Era of Marijuana Reform, details millions of racially targeted marijuana arrests made between 2010 and 2018. The report shows that Black people are 3.64 times more likely than white people to be arrested for marijuana possession despite comparable marijuana usage rates. Additionally, although the total number of people arrested for marijuana possession has decreased in the past decade, law enforcement still made 6.1 million such arrests over that period, and the racial disparities in arrest rates remain in every state.
Marijuana Shops Across the Country Close Doors After Looting [17]. Pot shops from Oregon and California to Massachusetts and Florida are temporarily closing their doors to customers after dozens of them were hit by looters and vandals amidst the chaos of mass protests over the police killing of George Floyd. Among those closed are 30 stores belonging to MedMen, which said its shops are indefinitely closed. Cresco Labs, which operates shops in six states, said it had temporarily closed its three Illinois locations after one was attacked Saturday night.
Drug Policy
The DEA Has Been Given Permission to Investigate People Protesting George Floyd's Death [18]. The Justice Department has given the DEA the temporary power "to enforce any federal crime committed as a result of the protests over the death of George Floyd." That would allow the federal dope cops to "conduct covert surveillance" and collect intelligence on people taking part in protests over the killing. Floyd's death "has spawned widespread protests across the nation, which, in some instances, have included violence and looting," the DEA memo says. "Police agencies in certain areas of the country have struggled to maintain and/or restore order." The memo requests the extraordinary powers on a temporary basis, and on Sunday afternoon a senior Justice Department official signed off.
International
Cambodia Criminal Justice Reforms Should Go Further, Human Rights Groups Say [19]. Amnesty International and Human Rights Watch have called on the Cambodian government to go further than its stated plan to tackle prison overcrowding and related human rights abuses in the country's criminal justice system. The reforms announced so far have neglected the ongoing human rights crisis in the country's notorious drug detention centers, which are overcrowded, plagued by torture, and present significant risks of coronavirus infection.