Sorry, Massachusetts, no legal pot sales for you for now; Mexican drug cartels and El Chapo's daughter are currying favor by handing out food and supplies amidst the pandemic, and more.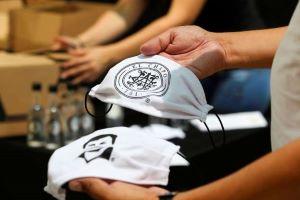 Massachusetts Judge Upholds State Ban on Recreational Pot Shops
[18]
. A Suffolk County Superior Court judge ruled Thursday that Gov. Charlie Baker (R) acted within the law when he shut down recreational marijuana businesses as part of a broader stay-at-home order issued to address the coronavirus pandemic. Pot businesses filed suit to overturn the ban, which they argued was arbitrary since Baker's order allowed medical marijuana and liquor outlets to remain open, but Suffolk Superior Court Judge Kenneth Salinger agreed with Baker's argument that the shops would attract out of state visitors: "It was reasonable for the governor to be concerned that the relatively few adult-use marijuana establishments in Massachusetts are more likely than liquor stores or [medical marijuana treatment centers] to attract high volumes of customers, including people traveling from other states," Salinger wrote. "The governor's decision to treat medical marijuana facilities and liquor stores differently than adult-use marijuana establishments has a rational basis and therefore is constitutional."
International
British Columbia Rolls Out Safe Drugs for Street Users [19]. Last month, the Canadian government urged provinces to lower barrier to prescription medications as part of the effort to self-isolate during the coronavirus pandemic, and now British Columbia is becoming the first province to apply those guidelines to people using street drugs. Healthcare providers are increasing the supply of opiate maintenance drugs and even dispensing some of them via a unique vending machine. By providing a safe supply of legal drug alternatives, the province hopes to lower a sudden spike in drug overdose deaths that coincided with the coronavirus outbreak in Vancouver.
Mexican Drug Cartels Hand Out More Coronavirus Aid [20]. One of imprisoned drug lord Joaquin "El Chapo" Guzman's daughters and several Mexican drug trafficking organizations have been handing out aid packages to help poor residents get through the coronavirus pandemic. Guzman's daughter Alejandrina is seen in Facebook videos filling boxes with slick logos and an image of her father with food and toilet paper. The video narrator calls them "Chapo's provisions." The boxes were distributed in Guadalajara, Jalisco. The products are made for El Chapo 701, a legal business run by his daughter. But other active cartels are also handing out goods to local residents in some areas in a bid to gain public support. In one case, the Jalisco New Generation Cartel can be seen handing out packages of food and supplies labeled: "From your friends, CJNG, COVID-19 contingency support." The Gulf Cartel did a similar free distribution of supplies to poor residents of Victoria, Tamaulipas, last week.