The young girl whose story named Charlotte's Web and launched the CBD movement has died of complications from suspected COVID-19, Mexican drug cartels are handing out food to the poor in the midst of the pandemic, and more.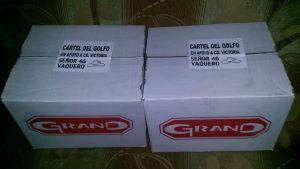 Medical Marijuana
Charlotte Figi, Colorado Girl Who Inspired CBD Movement, Dies of Possible Coronavirus Complications at Age 13 [13]. Charlotte Figi, the namesake for Charlotte's Web CBD products, has died of complications of suspected coronavirus, her family has reported. Figi suffered from Dravet Syndrome, a form of epilepsy, which left her suffering from hundreds of small and large seizures a day. Pharmaceutical treatments proved ineffective, and her parents then turned to CBD products, which reduced her seizures dramatically and allowed her to be weaned off anti-epileptic medications. "Charlotte is no longer suffering," reads a post on the family's Facebook page. "She is seizure-free forever. Thank you so much for all of your love."
Harm Reduction
NIDA Warns on Coronavirus Implications for People with Substance Use Disorders [14]. The National Institute on Drug Abuse is warning the research community studying coronavirus to "be alert to the possibility that it could hit some populations with substance use disorders (SUDs) particularly hard. Because it attacks the lungs, the coronavirus that causes COVID-19 could be an especially serious threat to those who smoke tobacco or marijuana or who vape. People with opioid use disorder (OUD) and methamphetamine use disorder may also be vulnerable due to those drugs' effects on respiratory and pulmonary health. Additionally, individuals with a substance use disorder are more likely to experience homelessness or incarceration than those in the general population, and these circumstances pose unique challenges regarding transmission of the virus that causes COVID-19. All these possibilities should be a focus of active surveillance as we work to understand this emerging health threat."
International
United Kingdom to Hand Out Methadone Without a Prescription to Those Already Receiving It [15]. As a response to the coronavirus crisis, pharmacists in Great Britain are being allowed to hand out a range of strong medicines, including methadone, without a prescription for the duration. The Home Secretary had asked the Advisory Council for the Misuse of Drugs (ACMD) to consider the risks of lifting restrictions on certain drugs, and the council decided to recommend the course of action despite voicing concerns it could lead to an increase in drug abuse. "The measure would rely on the professional judgment of pharmacists, who will be working outside the scope of their usual practice," the council said. "Without adequate support and guidance for the healthcare professionals affected by the proposed legislative change, there is a risk that pharmacists struggling to follow best practices could inadvertently lead to an increase in drug misuse and diversion. This is a particular risk for patient groups requiring opioid pain medicines, e.g. for palliative care or for opioid substitution therapy (OST). Additionally, whilst it will be necessary for the government to publicly announce in an emergency that these measures are to apply, common knowledge of the applicability of this measure may increase the risk of the misuse and diversion of controlled drugs."
Mexican Drug Cartel Gives Out Food to the Poor Amid Pandemic [16]. Members of the Gulf Cartel are delivering boxes of food to poor families in Ciudad Victoria, Tamaulipas, and members of Los Viagras are handing out food to poor families in the western state of Michoacan to help them deal with the disruptive consequences of the coronavirus pandemic. The drug traffickers have reportedly delivered food to at least 200 families. In Tamaulipas, boxes containing basic foodstuffs such as oil, breakfast cereal, and canned goods appeared with labels saying "Gulf Cartel in support of Ciudad Victoria."