With the advent of legalization, the marijuana cultivation industry is being transformed -- and not always for the better. What was once an illicit lifestyle with mom and pop growers hiding in the hills and playing cat and mouse games with prohibition enforcers is now a legal, above-board economic sector that increasingly resembles industrial agriculture, complete with massive indoor grows the size of football fields that gobble up energy, suck up water, and require large inputs of nutrients and pesticides.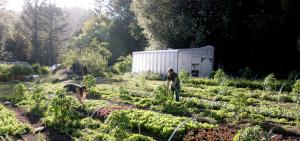 These sorts of practices are not exactly environmentally-friendly and they turn a blind eye to the climate change crisis that is already having an impact in this country, whether it's ever-more-drenching downpours during hurricanes, more frequent and intense tornados, shorelines inundated by rising sea levels, or -- closer to home for the legal marijuana industry -- drought and forest fires in California and the Pacific Northwest.
Now, some stalwarts of environmental and drug reform activism are partnering with one of California's most environmentally and socially-conscious cannabis distributors to try to tip the industry and marijuana consumers toward embracing ecologically-aware best practices that protect family farms, produce highest-quality product at competitive prices, and are good for the planet.
David Bronner, grandson of the founder of Dr. Bronner's Magic Soaps and the company's CEO (Cosmic Engagement Officer), is joining forces with small, sun-grown farmer champion and sustainable cannabis supply chain company Flow Kana to create Brother David's, a nonprofit marijuana company for consumers who value where their weed was grown and care about how it was produced. The venture will also promote a "beyond organic" Sun + Earth certification [15] that all its products will carry.
Because marijuana remains illegal under federal law, pot farmers who wish to demonstrate their commitment to sustainable, environmentally-sound organic agriculture practices cannot avail themselves of the label "organic," which is a federal program operated by the US Department of Agriculture. Sun + Earth certification seeks to fill that gap, and then some.
The Sun + Earth label "certifies that cannabis brands are holistically, responsibly, and regeneratively grown for the well-being of all people, farmers, and the planet," the group's web site explains. "We set the standard above and beyond organic." As seen in draft standards [16] released for public comment last August, compliance with standards set by the International Federation of Organic Agriculture Movements is just the beginning. The standards go above and beyond organic by promoting biodiversity and preserving ecosystem health, water conservation, carbon sequestration, growing plants in natural light only, and promoting soil conservation, among other requirements.
Such standards are wholly in line with the cutting edge save-the-planet practices now known as regenerative agriculture [17], which its practitioners define as following: "Regenerative Agriculture aims to capture carbon in soil and aboveground biomass, reversing current global trends of atmospheric accumulation. At the same time, it offers increased yields, resilience to climate instability, and higher health and vitality for farming and ranching communities."
That's exactly what Bronner and Flow Kana want to create in the marijuana industry.
"The problem with cannabis production now is the same as with industrial agriculture in general," Bronner said in a phone interview last week. "Now that we're post-prohibition, we have all the same problems as every legal commodity crop. We're seeing huge, indoor corporate grows that rely on chemicals and are energy-intensive and are displacing small farmers. There's a way we should be growing our crops that is regenerative, that builds top soil and creates biodiverse habitat for wildlife -- not dumping huge amounts of pesticides and fertilizers on the land and forcing farmers off the land to work for slave wages."
Flow Kana has the pot farmers Brother David's is looking for. Dedicated to creating the first sun-grown cannabis brand while supporting the state's small, independent marijuana farming ecosystem, the company has partnered with more than 200 Northern California growers using organic farming practices. Not every Flow Kana partner farmer is Sun + Earth certified, but every partner farmer whose product is destined for Brother David's is.
"It took us awhile to find Flow Kana," Bronner noted. "We didn't know of any distribution entity of any size that wasn't trying to integrate with massive grows. But there is a real cool family at the heart of the company; they have really good ethics about partnering with farmers, they're very transparent, and their top farms are all totally regenerative organic. These are multigenerational back-to-the-land farmers who've been growing cannabis alongside vegetables for decades."
"The Emerald Triangle's ecosystem of small farms is a rare one that regenerative pioneers like Dr. Bronner's have spent decades creating in their supply chain. The cannabis industry already has this and we have to fight to preserve it from the ways of industrial agriculture," said Michael Steinmetz, Flow Kana CEO. "This movement is not only about saving these environmental and community values but making this decentralized model of agriculture the gold standard for others to follow across the cannabis industry and beyond. This fight requires everyone's involvement and careful collaboration across many operators, distributors, retailers, and brands working in tandem to preserve, protect, and evolve our industry and world."
Veteran Washington, DC activist Adam Eidinger, who organized the District's successful 2014 marijuana legalization initiative, is a longtime Bronner ally who describes himself as "a missionary" for Brother David's. He accompanied Bronner on Emerald Triangle scouting trips looking for the right farms.
"We visited all the farms," he recalled in a phone interview. "They're all advocate farms. They've been in the space since before it was legal, some of them 30 or 40 years. These are well-established, multigeneration cannabis farmers. But they're also farms that can grow their own nutrients on-site, they usually also have livestock, veggies, greens, perennials, maybe 40 crops on a small amount of land. And no-till agriculture. You end up losing a lot of topsoil every time you till," he added.
"Brother David's is an activist brand," Eidinger emphasized. "This is people who have consistently been fighting for reform for 20 years, and we're jumping in now, kind of late, because we want to identify cannabis that consumers can trust and we want to support regenerative organic farmers, small-scale producers who have transitioned to the legal market. With this brand, consumers can put their money where it will do the most good."
That's because Brother David's is not only operating under agricultural best practices, it's operating as a nonprofit, with all net proceeds going to support regenerative ag and drug and criminal justice reform efforts.
"Brother David's is dedicating 100% of net profits, and a big chunk of that will go to drug policy reform groups, and not just cannabis reform," Eidinger explained. "David committed $5 million to the Multidisciplinary Association for Psychedelic Studies (MAPS) through Dr Bronner's, but there is still more need with more studies and initiatives. Some of the money will go to criminal justice reform in general, not necessarily about drugs, things like prisoner reentry and sentencing reform. If this takes off, we can do more for the community, and that's the mission. Other companies' mission is to make money."
"The cannabis legalization movement has achieved significant victories in the last 20 years. Now, we need to advance consumer and environmental interests by implementing regenerative organic agriculture in the cannabis industry," said Bronner. "As society moves closer and closer toward the federal legalization of cannabis, we need to chart a new course before it's too late. We need to promote Sun + Earth and other high bar standards -- because it's best for the Earth in this age of climate crisis, and produces the cleanest, greenest and most ethical cannabis possible."
Brother David's is rolling out beginning in May in select California dispensaries. It will offer nine strains [18] from eight different Sun + Earth certified farms partnering with Flow Kana. The strains are priced to compete in the mid-price premium market. For pot people who want to do their share to save the planet, it's time to get woke and bake with Brother D.
Dr. Bronner's Magic Soaps is a funder of StoptheDrugWar.org, the publisher of this newsletter.