A bad provision gets stripped out of the congressional opioid package, a Pennsylvania legislator files a legalization bill, Mexican Marines disarm Acapulco cops, and more.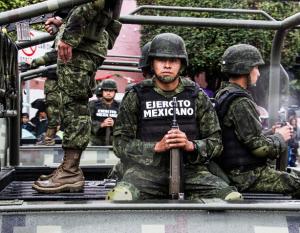 Marijuana Policy
Pennsylvania State Rep Files Bill to Legalize Marijuana [22]. State Rep. Jake Wheatley (D-Allegheny) has introduced a bill to legalize marijuana for adults and expunge the records of people convicted of past pot-related crimes. "My bill would immediately release people jailed for crimes associated with cannabis," Wheatley said in a news release. "Those who have criminal histories related to cannabis would be expunged, and professional and driver's licenses that were revoked or suspended due to cannabis-related crimes would be reinstated. For far too long, the criminal justice system has unfairly punished Pennsylvanians, especially minorities, who are caught with cannabis." The bill also would create a system of taxed and regulated marijuana commerce. It's not yet available on the legislative website.
Drug Policy
Damaging Drug War Provision Excluded From Congressional Opioid Package. [23] Late last night, the final text for the Congressional opioid package was released. SITSA, a sweeping bill expanding penalties on synthetic drugs and the broader war on drugs -- passed the House in July, and was expected to be included in the final bill. But a coalition of drug policy and criminal justice reform groups managed to push back against its inclusion, successfully keeping it out of the bill. "This is a huge win for public health over outdated drug war approaches," said Michael Collins of the Drug Policy Alliance's national office. "The bill would have expanded mass incarceration, while worsening the overdose crisis. It would have given Jeff Sessions unprecedented powers to schedule drugs and set draconian new criminal penalties. To pull this back from the brink after it easily passed the House only two months ago is a tremendous victory."
Pennsylvania Supreme Court to Decide Whether Maternal Drug Use Equals Child Abuse [24]. The state's highest court on Tuesday began weighing whether women who abuse drugs during their pregnancies can be punished under state law as child abusers. The court has never addressed the matter, which is again igniting debate as the opioid crisis spawns a new generation of babies born dependent on their mothers' drugs. The justices heard oral arguments in the case of a woman who gave birth in January 2017 to a child who spent 19 days in the hospital being treated for drug withdrawal. The woman had tested positive for marijuana, opioids, and anxiety drugs. The child was taken into custody by Children and Youth Services, and the mother was charged with child abuse.
New Psychoactive Substances
DC Mayor Backs Bill Penalizing Dealers of Synthetic Cannabinoids [25]. Mayor Muriel Bowser has proposed emergency legislation to go after dealers in synthetic cannabinoids as the District suffers from a spike in "fake weed" overdoses. "This is not marijuana," Bowser said at a Tuesday news conference. "The effects are very different, and they can be deadly." The city already prohibits the sale of synthetic drugs, but this bill would expand that ban.
International
Mexican Marines Disarm Entire Acapulco Police Force Over Links to Drug Gangs [26]. Authorities in the state of Guerrero disarmed and placed under investigation the entire police force of Acapulco, the state's largest city, claiming the local police were infiltrated by drug gangs. Two top Acapulco police commanders were also charged with homicide. Last year, Acapulco had a murder rate of 103 per 100,000 residents, one of the highest in the world.
Venezuela Calls on Colombia to Take Action on Drug Trafficking [27]. The Foreign Ministry called Tuesday for its eastern neighbor to "assume international responsibilities for the damage caused by the drug trafficking industry." Caracas wants Bogota to redouble its anti-trafficking efforts in light of the "alarming increase" in coca cultivation in Colombia reported by the UN Office on Drugs and Crime last week. "For the government of the Bolivarian Republic of Venezuela, it is even more worrisome that, according to said report, one of the most affected departments is precisely the north of Santander, bordering Venezuela, from where groups of drug trafficking and paramilitary violence are constantly attacking the population, the economy, and Venezuelan institutions. Venezuela urges the Colombian authorities to make sincere and effective efforts to assume international responsibilities for the damage caused by the drug trafficking industry to neighboring countries and the world," the ministry said.
[Disclosure: Drug Policy Alliance is a funder of the organization that publishes this newsletter.]