Denver could essentially legalize psychedelic mushrooms by next spring if a group of local activists has its way. But they have a few hurdles to overcome first.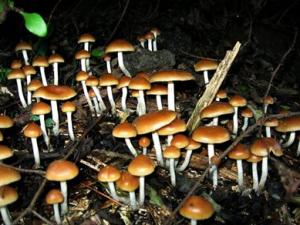 This week, members of
Denver for Psilocybin
[15]
handed in to city officials a pair of municipal initiatives aimed at removing penalties for possessing and consuming the fungi, which contain the psychoactive ingredient psilocybin. That's the first step in a process that could see the issue put before voters in the May 2019 local election.
One measure, the Denver Psychoactive Mushroom Decriminalization Initiative, reflects the activists' maximum program; the other, the Denver Psychoactive Mushroom Enforcement Deprioritization Initiative, is a less ambitious backstop.
Both initiatives would make enforcement of laws against magic mushrooms a low law enforcement priority by adopting language that would "prohibit the city from spending resources to impose criminal penalties for the personal use and personal possession of psychoactive mushrooms." Under both initiatives, the sale of magic mushrooms would remain illegal.
The initiatives differ in two important respects. The broader one allows for the "personal possessions, use, and propagation" of magic mushrooms; the backstop version only allows for possession and use, not propagation. And the broader version contains no limits on possession, while the backstop would limit possession to two ounces.
Kevin Matthews, campaign manager for Denver for Psilocybin, told Westword [16] he hoped the broader measure would pass muster with both city officials and voters, but that allowing propagation may be a bridge too far.
"It's a natural right. It's a human right. This one is our Hail Mary victory shot," Matthews said. "It's more a matter of public opinion," he said of the two-pronged approach. "Are people ready to accept that people are already propagating?"
The Denver City Council now has a week to schedule a comment and review hearing led by Council Executive Director Leon Mason and Assistant City Attorney Troy Bratton. While the hearing is open to the public, there is no opportunity for public comment.
If the council approves, the initiatives then go to the Denver Election Division, which will have three days to decide whether to accept or reject them. Denver for Psilocybin had earlier versions of the initiatives rejected by the Elections Division but hopes it has addressed those issues with the new versions. If approved by the Elections Division, the group will then have to come up with some 5,000 valid voter signatures by January to qualify for the May ballot. They are confident that if they can get the measures on the ballot, they can win.
"I am extremely optimistic. I think we're gonna win. I think we're going to pass this thing," he says. Even if voters don't side with the group, "simply getting on the ballot will be a victory."
Denver isn't the only place where moves to legalize or decriminalize magic mushrooms are afoot, but it may be the first place voters get a chance to weigh in. In Oregon, activists aiming at 2020 are working on an initiative that would legalize and regulate the therapeutic use of psilocybin [17], while just to the south, the California Psilocybin Legalization Initiative [18] campaign tried to get their measure on the 2018 ballot, but came up short on signatures. They will be back.
Magic mushrooms remain illegal under the federal Controlled Substances Act. But so was marijuana when Coloradans voted to legalize it in 2012. And here we are.