Attorneys General in New Jersey and Vermont lay down the law on pot, Oklahomans rally against restrictive medical marijuana rules, Filipino President Duterte vows more drug war, and more.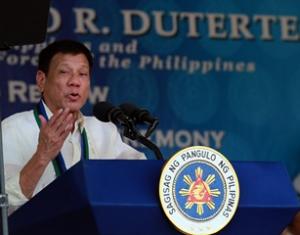 Marijuana Policy
New Jersey Attorney General Says Jersey City Can't Decriminalize [20]. State Attorney General Gurbir Grewal said last Friday that Jersey City doesn't have the power to decriminalize marijuana. The move came a day after the city decriminalized possession by decree. Grewal wrote that his office "takes no position" on marijuana legalization or decriminalization, "rather, I write to advise that, as a municipal prosecutor, you do not have the legal authority to decriminalize marijuana or otherwise refuse to criminally prosecute all marijuana-related offenses in the municipal courts of Jersey City," Grewal writes. "Accordingly, I am instructing you that your memorandum is void and has no effect."
Vermont Attorney General Rules That Businesses Can't "Give" Marijuana in Connection with Other Purchases [21]. State Attorney General T.J. Donovan provided guidance Monday to clarify that trying to get around the state's no marijuana sales legalization law by providing pot as a "gift" when purchasing some other item remains illegal. The move came after some Burlington businesses began a delivery service that "gifted" marijuana with the purchase of a courier service. They had argued that they were operating under a loophole in the law, but Donovan disagreed.
Medical Marijuana
Oklahoma Medical Marijuana Advocates Rally Against Emergency Rules [22]. Medical marijuana supporters rallied Saturday at the state capitol amid frustration over emergency rules promulgated by the state Board of Health and said they would be back again Tuesday. The board on July 10 approved emergency rules that would, among other things, ban the sale of smokable marijuana products and require a pharmacist to be on site at dispensaries. Last week, Attorney General Mike Hunter (R) said the board overstepped its authority, and the board now says it will meet again soon to reevaluate the proposed rules.
International
British Poll Finds First Majority for Marijuana Legalization [23]. For the first time, a public opinion in the United Kingdom shows a majority in favor of marijuana legalization. A new BMG Research poll had 22% strongly supporting legalization and another 29% somewhat supporting legalization, bringing total support to 51%. Some 35% were opposed, and 14% had no opinion. A second question regarding decriminalization yielded a similar 52% approval.
Mexican Opium Growers Ask AMLO to Legalize Cultivation [24]. A group of community leaders from the poppy-producing region of Guerrero state has appealed to president-elect Andres Manuel Lopez Obrador (AMLO) to legalize the cultivation of opium poppies for use in the manufacture of legal pharmaceutical drugs. "As a priority, we are seeking the legalization of the cultivation of poppies for medicinal purposes so that farmers in the Sierra are no longer criminalized," Arturo López Torres, a member of a local union that advocates for economic and social development, told the newspaper El Universal. The growers also want AMLO to clarify whether poppy farmers who have been jailed for growing the crop would qualify under the government's proposed amnesty law.
Philippines' Duterte Vows to Continue "Relentless and Chilling" Drug War [25]. Philippine President Rodrigo Duterte on Monday vowed to continue his bloody war on drugs, telling a joint session of Congress the fight would be as "relentless and chilling" as it has been during his first two years in power, which have seen thousands of people killed. He also took a swipe at critics, saying "your concern is human rights, mine is human lives." But not, apparently, the lives of accused drug users or sellers.