A second acting DEA administrator is set to resign, New York City Mayor de Blasio has a plan to reduce Big Apple marijuana arrests, the Canadian legalization bill heads for the goal line, and more.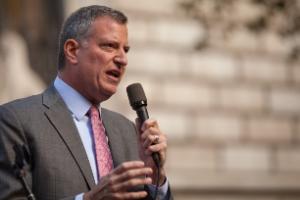 Marijuana Policy
New York City Mayor Announces New Policy to Reduce Marijuana Arrests [14]. Mayor Bill de Blasio said Tuesday that the NYPD will not arrest many people caught smoking pot under a new policy set to begin September 1. But people on probation or parole or who have open arrest warrants would still be arrested. Around 17,500 people are arrested for marijuana possession each year; de Blasio said the policy shift would turn about 10,000 of those arrests into citations instead.
Advocates Slam Mayor de Blasio's New Marijuana Arrest Plan [15]. The Drug Policy Alliance and VOCAL-NY said the mayor's announced move doesn't go far enough and does not address the racial disparities in arrests that prompted the policy shift in the first place. "It's frustrating that as the New York State Health Department moves toward legalization, the City is continuing its shameful history of racist marijuana enforcement. It is also confusing because the new policy does not appear to address racial disparities at all, which was the issue that supposedly prompted this in-house review," said Civil Rights Campaign Director Nick Encalada-Malinowski and Drug Policy Alliance New York Director Kassandra Frederique. "The exceptions that the Mayor has laid out -- arrests for people on parole or probation, people with criminal records, people with warrants or lacking ID, or for 'officer discretion' -- will compound existing collateral consequences and all but guarantee the status quo of racial disparity continues."
Medical Marijuana
Florida Smokable Marijuana Ban is On Again [16]. The on again-off again ban on state medical marijuana patients using smokable forms of marijuana is on again. A state appeals court has ruled that the state's ban will remain in effect "pending final disposition of the merits of (a recent) appeal." A circuit court judge had invalidated the ban, but the state Health Department appealed that decision, and now the ban is on until the case is decided.
Drug Policy
Acting DEA Head to Step Down [17]. Acting DEA administrator Robert Patterson told staff at the agency Monday he is retiring. Patterson said in an email to staff that he "realized that the administrator of the DEA needs to decide and address priorities for years into the future -- something which has become increasingly challenging in an acting capacity." Patterson is a 30-year veteran of the agency who replaced the previous acting administrator, Chuck Rosenberg. Rosenberg resigned over policy differences with the Trump administration.
International
Canada House of Commons Votes to Legalize Marijuana, Sends Bill Back to Senate [18]. The House of Commons voted 205-82 Monday to approve some Senate amendments to the C-45 [19] legalization bill, sending the bill back to the Senate for continued debate and a final vote. The Commons rejected the Senate's proposed ban on marijuana companies selling branded merchandise and allowing provinces to ban home cultivation.