A non-binding referendum on marijuana legalization has been approved by the Illinois Senate, another such referendum bill has just been filed in Rhode Island, the Iranian justice minister said drug executions will drop dramatically, the president nominates members to the Sentencing Commission, and more.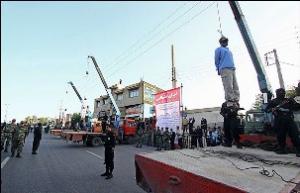 Marijuana Policy
Delaware Marijuana Report Fails to Win Task Force Approval for Release [22]. A final report on issues surrounding marijuana legalization failed to win approval from a legislative and state official task force, but one Democratic legislator said it will be made available to the General Assembly anyway. Only 12 of the 25 task force members voted to release the report; all state cabinet representatives either were absent or abstained. Gov. John Carney (D) has said he opposes legalization.
Illinois Senate Approves Non-Binding Legalization Referendum [23]. The Senate voted 37-13 Thursday to put a non-binding marijuana legalization referendum on the November ballot. The measure, Senate Bill 2275 [24], now heads to the House. The question voters would be asked is: "Shall the State of Illinois legalize the cultivation, manufacture, distribution, testing, and sale of marijuana and marijuana products for recreational use by adults 21 and older subject to state regulation, taxation and local ordinance?"
Rhode Island Bill to Put Non-Binding Legalization Referendum Before Voters Filed [25]. Rep. Scott Slater (D-District 10) filed a bill Wednesday that would put the question of legalizing marijuana before the voters in a non-binding referendum. House Bill 7883 [26] would ask voters: "Do you support the legalization of possession and use of marijuana by persons who are at least 21 years of age, subject to regulation and taxation that is similar to the regulation and taxation of tobacco and alcohol?"
Baton Rouge Moves Toward Decriminalization [27]. The East Baton Rouge Metro Council voted Wednesday night approved a measure that would direct police to only issue summonses to people caught with less than 14 grams of weed, with the only punishment being a $40 fine, with the fine going up $20 for each subsequent offense. Under current law, those folks are looking at six months in jail. If signed by Mayor-President Sharon Weston Broome, the new law goes into effect in 30 days.
Sentencing
Trump Nominates Sentencing Commission Members [28]. On Thursday, President Trump announced he intended to nominate five people to the US Sentencing Commission, which sets guidelines for federal sentencing. He named Judge William Pryor of Arkansas, who already sits on the commission, to be Acting Chairman. Of the four other nominees, three are sitting federal judges and one is a Georgetown University law professor who has raised eyebrows for his support of mandatory minimums.
Rhode Island Bill Would Impose Life Sentences for Drug Overdose Deaths [29] House Speaker Nicholas Mattiello has filed House Bill 7715 [30], which could create life sentences for people convicted of providing drugs to persons who suffered a fatal overdose. Under current state law, anyone convicted of providing drugs to a minor who overdoses an dies can get a life sentence; this bill would expand that to include life sentences no matter the age of the victim. "Anyone who is preying on individuals with an addiction, regardless of age, should be held responsible. This is not a crime restricted to the sale of drugs to a minor," Mattiello said.>
Washington State County Will Stop Prosecuting Small-Time Drug Possessors [31]. Snohomish County Prosecutor Mark Roe has announced that his office will no longer prosecute people caught with less than two grams of any illicit drug. He said the prosecutions are time-consuming, he doesn't have enough prosecutors to keep up, and the prosecutions do little to stop drug use. Snohomish County lies between Seattle and the Canadian border.
International
Iran Justice Minister Expects Fewer Executions Under Revised Drug Law [32]. Justice Minister Ali Reza Avai told the UN Human Rights Council on Tuesday that he expects to see drug executions shrink after reforms in the Islamic Republic's criminal code aiming to be more efficient and safeguard the rights of the accused were adopted. "In this context the counter-narcotics law was amended. As a result, executions related to drug crimes will decrease remarkably," he predicted. Iran has been one of the world's leading drug executioners.
Mexican Police Accused of Death Squad Tactics Against Drug Suspects [33]. Prosecutors in the state of Veracruz have charged 19 police officers, including some commanders of a special anti-drug unit, of kidnapping, torturing, and murdering at least 15 people in the area. Police in marked cars would pick up suspects, but not record the arrests, instead turning them over to specialized interrogation and torture squads working at the policy academy. They were later killed and their bodies disposed of. The charges are an important step in addressing festering impunity for official crimes in the drug war. "This is the first time they have charged people in significant numbers and of significant rank and demonstrated that there was an organized, structured governmental apparatus that had an agreed-on, systemic method to carry out a policy of disappearing people," said Juan Carlos Gutiérrez, a lawyer who specializes in human rights cases. The groundbreaking thing is that prosecutors built a case by demonstrating there was a whole governmental structure that was designed to disappear people," he told the Guardian.