AlphaBay is history, Nevada moves to ease its legal pot shortage, the White House opioid commission misses a deadline -- again -- and more.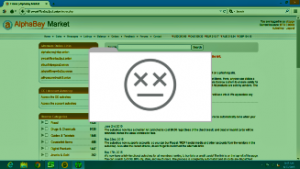 Marijuana Policy
Nevada Regulators Approve Emergency Measures to Ease Pot Shortage [20]. The state Tax Commission voted Thursday to let the Department of Taxation to again determine whether limiting marijuana transport licenses to licensed alcohol distributors would result in a shortage of legal marijuana distributors. If the department does make that determination, it could then award transport licenses to previous medical marijuana distributors. "When businesses operate we get the tax revenue and that's what the state wants," testified Deonne Contine, director of the Department of Taxation. "We need to do everything we can to get more distributors licensed so these businesses can continue operating."
Industrial Hemp
Utah Regulators Give Initial Approval for Hemp Research Grows [21]. The state Agricultural Advisory Board on Thursday gave initial approval to a new rule that would allow limited marijuana cultivation for research purposes. The rule would allow anyone with a permit to grow industrial hemp. State universities are already able to cultivate hemp for research purposes under the 2014 federal Farm Bill, but this rule now expands who can grow the plant. The rule is open for public review through the summer and if finalized, would allow the state to begin issuing permits next January.
Heroin and Prescription Opioids
White House Opioid Commission Again Misses Deadline [22]. The president's Commission on Combating Drug Addiction and the Opioid Crisis, led by New Jersey Gov. Chris Christie (R), will miss a second deadline for filing an interim report. Under a Trump executive order establishing the commission, the panel had until June 27 to file its interim report, but failed to do so and said it would on July 17. Now, in a notice printed in the Federal Register Friday, the commission said it would reschedule its July 17 call until July 31, again missing its deadline. The commission has until October 1 to issue a final report.
Law Enforcement
Dark Web Giant AlphaBay Busted, Owner Hangs Himself in Thai Jail [23]. AlphaBay, one of the largest drug sales websites on the Dark Web, has gone dark. It wasn't, as some suspected, a scam and rip-off by the owners, but the result of a joint law enforcement operation by police in Canada, the US, and Thailand. Canadian citizen Alexandre Cazes, identified as AlphaBay's owner, was arrested July 5 in Thailand, where he owned three luxurious homes. He was found hanged in a Thai jail cell Wednesday.