The Congressional Cannabis Caucus is getting down to business, yet another poll shows strong (and increasing) support for marijuana legalization, Trump names an acting drug czar, a California safe injection site bill is moving, and more.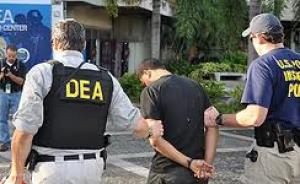 Marijuana Policy
New General Social Survey Poll Shows Jump in Support for Legalization [22]. Support for marijuana legalization surged last year, according to new data released by the General Social Survey. The poll has support for legalization at 57% in 2016, up five points from 2014.
Package of Federal Marijuana Reform Bills, Including Legalization, Filed Today [23]. The Congressional Cannabis Caucus [24] flexed its muscles Thursday as members of Congress filed a package of bills aimed at creating a "path to marijuana reform" [25] at the federal level and protecting and preserving marijuana laws in states where it is legal. Two Oregon politicians, Sen. Ron Wyden (D) and Rep. Earl Blumenauer (D) led the charge, announcing a bipartisan package of three bills, including a marijuana legalization bill reintroduced by Rep. Jared Polis (D-CO), as well as a pair of bills aimed at cleaning up "collateral issues" such as taxes, regulation, banking, asset forfeiture, descheduling, research, and protection for individuals. Click on the link to read our feature story and see more about the bills.
Vermont Legalization Bill Hits Snag [26]. The effort to legalize marijuana took a detour Tuesday when the House leadership indefinitely postponed a vote on House Bill 170 [27] after it became apparent it didn't have enough votes to pass. The bill isn't dead, but it has now been sent to the House Human Services Committee, where it will sit until the leadership thinks it has come up with enough votes to pass.
Medical Marijuana
Arkansas Senate Approves Medical Marijuana Tax Bill [28]. The Senate voted 31-1 Wednesday to approve House Bill 1580 [29], which would impose a 4% tax on medical marijuana at each transaction. The tax would be levied on growers' sales to dispensaries and again on dispensaries' sales to individuals. The tax would sunset in 2019 after raising an estimated $3.6 million. The bill had already passed the House, but was sent back there for a concurrence vote after amendments were added in the Senate.
Colorado Legislators Vote to Rein In Medical Marijuana Home Grows [30]. The state Senate voted unanimously Wednesday to approve House Bill 17-1220 [31], which would limit the number of medical marijuana plants grown at a single residence to 12. Under current law, up to 99 plants are allowed. The bill now heads to the governor's desk.
West Virginia Senate Approves Medical Marijuana Bill [32]. The state Senate voted Wednesday night to approve Senate Bill 386 [33], which would allow for the use of medical marijuana for specified medical conditions. The bill now heads to the House of Delegates.
Asset Forfeiture
Justice Department Report Scorches DEA Over Asset Forfeitures [34]. The Justice Department inspector general's office has released a report on DEA cash and asset seizure practices that warns the way DEA operates may pose a risk to civil liberties. The report noted that most seizures result from direct observation by DEA agents or local police, leading to concerns about the potential for racial profiling. The report examined a hundred asset forfeiture cases, and found that fewer than half advanced ongoing investigations. "When seizure and administrative forfeitures do not ultimately advance an investigation or prosecution, law enforcement creates the appearance, and risks the reality, that it is more interested in seizing and forfeiting cash than advancing an investigation or prosecution," the report said.
Drug Policy
Trump Nominates Richard Baum as Acting Drug Czar [35]. The president has nominated Office of National Drug Control Policy (ONDCP -- the drug czar's office) veteran and Georgetown University adjunct professor Richard Baum to be acting drug czar. While some of Baum's remarks over the years have drawn controversy, he is generally viewed by insiders as having a public policy approach as opposed to a drug warrior approach.
Harm Reduction
California Bill to Allow Supervised Injection Sites Advances [36]. A bill that would create a five-year exemption from the state's drug laws to allow for the operation of supervised injection facilities advanced in the Assembly last week. The Assembly Health Committee voted 9-4 to approve Assembly Bill 186 [37]. The bill now goes to the Assembly Public Safety Committee.