This article was produced in collaboration with AlterNet and first appeared here [14].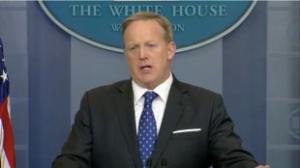 Marijuana legalization advocates and the legal marijuana industry have been on tenterhooks ever since Donald Trump won the White House last November, and increasingly so since he nominated drug warrior former senator Jeff Sessions as his attorney general, the highest law enforcement officer in the land.

But for the three months since the election and the month since Trump took office, the Trump administration has had little to say on the topic. Until now.

At the administration's press briefing Thursday, White House press secretary Sean Spicer hinted that the Trump administration will step up enforcement of federal marijuana prohibition.

"I do believe that you'll see greater enforcement," Spicer said, while adding the exact policy is "a question for the Department of Justice."

Spicer also suggested that any crackdown wouldn't apply to medical marijuana, saying that Trump believes it can "comfort" people suffering from illnesses. But, Spicer said, Trump views recreational marijuana as linked to heroin and prescription opioid use -- even though evidence suggests the opposite [15].

Spicer's comments are especially worrisome given Sessions' coy responses to questions during his nomination hearings about what he would do about weed. The former Alabama Republican senator said he couldn't ignore federal laws prohbiting marijuana, but that he would have to use "good judgment about to handle these cases."

But any action against legal recreational marijuana will be at odds with public sentiment. A Quinnipiac poll released Thursday [16] had support for marijuana legalization at 59% and -- more critically for administration political calculations -- support for the feds butting out of legal marijuana states at 71%.