The killing of a young, black, unarmed Tampa man by a SWAT team that raided his home in an operation that turned up two grams of marijuana has sparked angry protests [16] last week, including demonstrations last Thursday where people damaged vehicles, lit fires, and threw trash at police, leaving five people arrested and a community outraged.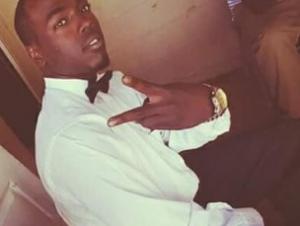 Levonia Riggins
[17]
was shot and killed in his bedroom by Deputy Caleb Johnson of the Hillsborough County Sheriff's Office as the SWAT team executed a search warrant based on purchases of marijuana from Riggins by undercover officers earlier this summer. Police said they used the SWAT team because they had found guns in the house a year earlier.
When deputies arrived, they broke through a window and found Riggins in bed. "Mr. Riggins then jumped up and moved his hands toward his waistband," a police spokesman explained. Johnson then fired, killing Riggins in what police called "a split-second decision." The Hillsborough State Attorney's Office is now investigating the killing, as is a sheriff's internal team.
Riggins was only the last person to be killed in drug law enforcement operations this summer that left 10 other people dead in separate incidents, including a Tennessee police officer. According to the Drug War Chronicle [18], which has been tracking such deaths since 2011, the year's drug war death toll [19] now stands at 33.
That's a rate of about one a week, a rate that has held constant throughout the five years the Chronicle has been counting. Also consistent is the ratio of civilians killed to police officers killed. It has been running at about 10:1 over the five-year period, and with three officers killed so far this year, that ratio is being maintained.
Here are the rest of the summer's drug war victims and the circumstances of their deaths:
On August 18, in Apache Junction, Arizona, a Maricopa County sheriff's SWAT Team member shot and killed Larry Eugene Kurtley, Jr [20]., 53, as the SWAT team attempted to take him into custody on drugs, drug paraphernalia, and weapons charges. A woman who left the residence as police arrived told them he could be armed, and the SWAT team then began to negotiate his surrender, police said. But Kurtley refused to come out, so police fired tear gas into the home. When he emerged from the house, he was armed, police said, and one of the SWAT deputies opened fire, killing him. Kurtley had served multiple prison sentences dating back to the 1990s. The Pinal County Attorney's Office and the sheriff's office professional standards bureau are investigating.
On August 16, just outside Augusta, West Virginia, a sheriff's deputy shot and killed John O'Handley [21], 55, of Yellow Springs as he reportedly grabbed the deputy's gun while being transported to jail after being arrested on methamphetamine and other charges. Deputies had originally gone to O'Handley's residence in search of a stolen motorcycle, but discovered an active meth lab in the home, as well as homemade bombs and stolen property. O'Handley allegedly reached between the front seats of the police car and grabbed the arresting deputy's gun. "A struggle then ensued," and the deputy fired one shot, striking O'Handley in the head and killing him. The shooting is being investigated by the West Virginia State Police.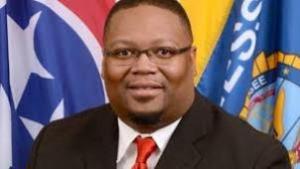 On August 9, in Jackson, Tennessee
, a Tennessee Bureau of Investigation agent was shot and killed while conducting an undercover drug buy.
Special Agent De'Greaun Frazier
[22]
, 35,was assisting Jackson Metro Narcotics and was in the front seat of a vehicle when the man he was supposed to buy drugs from instead tried to rob him, shooting him from the back seat. That man, Brendan Burns, has now been
charged with murder
[23]
in his death. Frazier had earlier served on a DEA task force while working at the Millington Police Department.
On August 9, in Los Angeles, LAPD officers in Boyle Heights shot and killed Jesse Romero [24], 14, as he fled from them while they investigated a report of possible "gang writings" and drug activity. According to the LAPD account, Romero and another youth split up and took off running when police arrived, and a witness saw Romero shoot a handgun toward pursuing officers. One officer returned fire, striking and killing Romero. But another witness said she saw Romero pull a gun from his basketball shorts as he ran, then toss it toward a fence. The gun fired when it fell to the ground after hitting the fence, startling Romero. "He didn't shoot," she said. Police recovered an old revolver, but it is unclear how near it was to Romero's body. The officers involved were wearing body cameras, but under LAPD policy that footage is only released to the officers involved before they make an initial statement -- not to the public. The ACLU of Southern California released a statement [25] saying it was "particularly concerned" about Romero's death and criticizing LAPD's body camera policies.
On July 7, in Clovis, California, Clovis Police serving an arrest warrant on narcotics and related charges shot and killed Adam Smith [26], 33, as he attempted to flee in his vehicle. Police and his girlfriend's family lured him to the family residence, but he and his girlfriend tried to escape, jumping in his van in an alley. According to police, when they confronted the pair in the alley, the girlfriend jumped out of the van, Smith slammed it into reverse, nearly hitting her, then accelerated his vehicle toward the officers. Two of the three offices opened fire, fatally wounding Smith. He was not named in initial reports, but was later identified [27]. In another report, an acquaintance said Smith was on heroin and had repeatedly said they he would die in a "suicide by cop," especially when he was on heroin.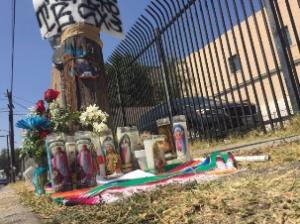 On June 30, in Douglas, Wyoming
, a US marshal shot and killed
Jasen Scott Ramirez
[28]
, 44, in the parking lot of a Catholic Church as he was
leaving his father's funeral
[29]
. The federal agents were seeking Ramirez to serve an arrest warrant on methamphetamine and weapons charges. Local police called to the scene after the shooting discovered 3.5 ounces of meth and two pistols in the vehicle he was driving, but it's unclear to whom the car, the guns, or the drugs belonged. It's also unclear whether Ramirez was brandishing or reaching for a weapon when he was shot and killed. The US Marshals Service has issued only a one-paragraph statement, short on details, including the name of the marshal who pulled the trigger. The agency said it would not be saying more until all investigations into the incident are concluded, including one by the Wyoming Division of Criminal Investigation. After the killing, an unconfirmed death threat was made against law enforcement, prompting authorities to temporarily lock down the county courthouse, city hall, and the hospital where Ramirez died.
On June 16, in Westminster, Colorado, a Westminster police officer shot and killed Nicholas Damon [30], 30, after Damon allegedly dragged the officer and ran over him with his car. Police were attempting to arrest Damon on outstanding drug and assault warrants when he hopped into his car and attempted to flee the scene. The officer involved was briefly hospitalized with "non-life threatening injuries." The killing is being reviewed by an Adams County special investigatory team.
On June 14, in Chula Vista, California, an undercover ICE agent shot and killed Fernando Geovanni Llanez [31], 22, as agents met with a half-dozen suspected marijuana traffickers in an apparent buy-bust deal at an Eastlake-area strip mall. The agent was part of the Homeland Security Investigations Operation Alliance drug task force, and the agency said Llanez attacked him in what could have been a robbery attempt. The agent fired several times, fatally wounding Llanez. His five companions fled, but were all chased down and arrested on charges of possession of marijuana for sale, conspiracy, and suspicion of robbery. Chula Vista police declined to confirm that it was an undercover operation and would not say if any cash or drugs were seized. There was no mention of any weapon.
On June 8, in Kansas City, Missouri, members of a DEA task force executing a search warrant shot and killed Carlos Garcia [32], 43, after he fired at officers from inside the house and then refused to exit, leading to an hours-long standoff. Finally, after police shot tear gas into the house, Garcia ran out the back door of the residence aiming his rifle at officers, police said. Task force members then opened fire on Garcia, killing him in the back yard.
On June 7, in Turlock, California, two Modesto police officers who were members of the Stanislaus County Drug Enforcement Agency "involved in a narcotics investigation" shot and killed Omar Villagomez [33] after the vehicle he was driving collided with unmarked police vehicles as they attempted to arrest him. The passenger in the vehicle was not shot, but was injured by debris from the collision. He was charged with suspicion of meth possession with intent to sell, transportation of meth, possession of a controlled substance while armed, and possession of a loaded and concealed firearm.