This article was produced in collaboration with AlterNet and first appeared here [11].
The House and Senate on Thursday approved amendments to the Military Construction and Veterans Affairs appropriations bill that should ease access to medical marijuana for veterans suffering from Post-Traumatic Stress Disorder (PTSD), serious wounds, and other debilitating conditions.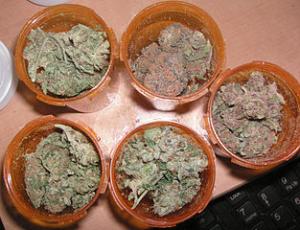 Sponsored in the House by Earl Blumenauer (D-OR) and Joe Heck (R-NV), and in the Senate by Steve Daines (R-MT) and Jeff Merkley (D-OR), the measure would bar the spending of federal funds to enforce a Veterans Health Administration policy that prohibits VA physicians from recommending medical marijuana, even in states where it is legal. Once the measure becomes law, VA docs would no longer face penalties for discussing medical marijuana with patients or for providing recommendations for patients to participate in state-legal medical marijuana programs.
The House and Senate versions of the appropriations bill have to be reconciled by a conference committee and passed again by both chambers. The medical marijuana amendments passed 233-189 in the House and 89-8 in the Senate.
With the ban in place, even in states with medical marijuana laws, veterans must go outside the VA system to get a recommendation or even discuss medical marijuana with their doctors. That VA policy actually expired at the beginning of this year, but would remain in force without congressional action. And Congress has acted.
"Today is a monumental day for us vets," said TJ Thompson, a disabled U.S. Navy Veteran who lives in Virginia. "Congress has recognized our right to heal, allowing us access to medical cannabis within the VA.
Marijuana policy reformers, who have long fought to remove obstacles to veterans' use of medical marijuana, were pleased, too.
"Prohibiting VA doctors from recommending medical marijuana does nothing to help our veterans," said Robert Capecchi, director of federal policies for the Marijuana Policy Project [12]. "Current VA policy is preventing physicians from thoroughly monitoring patients' medication decisions and engaging in frank conversations about available treatment options. It dramatically undermines the doctor-patient relationship."
"It's looking like this could finally be the year the federal government stops making veterans jump through costly, time-consuming hoops just to get legal access to medical marijuana," said Tom Angell, head of Marijuana Majority [13]. "Cannabis has shown great promise in helping veterans deal with PTSD and treat chronic pain, and it's an increasingly attractive alternative to opioids. There's absolutely no reason the VA should be preventing its doctors from helping veterans who served our country find relief with medical marijuana."
"We are delighted to lift this outdated, discriminatory policy, which has negatively impacted the lives of so many veterans." said Michael Collins, deputy director for the Drug Policy Alliance's [14] Office of National Affairs. "We need all options on the table to treat veterans, and finally Congress has seen sense and will allow veterans to be on an equal footing to other residents of medical marijuana states."
After today's votes, the two chambers will take up reconciling and differences between the two versions of the appropriations bills before sending them to the president.