A Tax Foundation study finds that legal pot could generate $28 billion a year in tax revenues, CBD cannabis oil isn't enough for Oklahoma medical marijuana activists, Canada will allow prescription heroin, and more.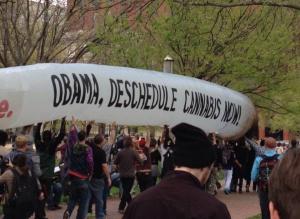 Marijuana Policy
Study Finds Legal Marijuana Could Generate Billions a Year in Tax Revenues [22]. A new report [23] from the Tax Foundation estimates that a nationwide "mature marijuana industry" could generate up to $28 billion a year in federal, state, and local tax revenues. That would include $7 billion for the feds, $5.5 billion in business taxes, and $1.5 billion from income and payroll taxes. The report also estimated that a 10% federal surtax could generate $5.3 billion a year.
Veterans, DC Activists to Rally at White House on May 20 [24]. Organizers with the Weed For Warriors Project [25] and the DC Cannabis Campaign [26] are planning to rally in front of the White House to call on the Obama administration to end federal marijuana prohibition. The date, May 20, marks the 124th anniversary of the birth of arch-prohibitionist and proto-drug warrior Harry Anslinger, head of the Federal Bureau of Narcotics for three decades in the mid-20th Century.
Medical Marijuana
Montana Medical Marijuana Supporters Appeal to US Supreme Court [27]. The Montana Cannabis Industry Association last Thursday filed a petition with the US Supreme Court seeking to reverse a state Supreme Court decision that guts the state's once-thriving medical marijuana industry. Petitioners argue that the state Supreme Court mistakenly held that marijuana is universally illegal under federal law and point to the Obama administration's decisions to allow states to implement their own marijuana laws.
Oklahoma Governor Signs CBD Cannabis Oil Bill [28]. Gov. Mary Fallin (R) has signed into law a CBD cannabis oil expansion bill. Last year, the state approved the use of the oil, but only for people under 18. This bill removes that age restriction.
Oklahoma Medical Marijuana Advocates Begin Initiative Signature Gathering Campaign [29]. CBD cannabis oil isn't enough for Oklahomans for Health [30], which began gathering signatures over the weekend for a full-blown medical marijuana initiative. The group has 90 days to gather 66,000 valid voter signatures to get the measure on the November ballot.
Heroin and Prescription Opioids
Congress Passes Comprehensive Addiction and Recovery Act [31]. Both houses of Congress have approved the measure, Senate Bill 524 [31] and HR 953 [32], which now goes to President Obama. The bill would expand the availability of naloxone, increase prescription drug monitoring programs, increase jail- and prison-based drug treatment, and bar the Education Department from asking about drug convictions on federal student loan application forms, among other provisions. The bill does not include extra funding to pay for its measures.
Obama Administration Calls on Congress to Fund $1.1 Billion for Opioid Effort [33]. Last Thursday, as Congress was passing the Comprehensive Addiction and Recovery Act, the Obama administration noted that Congress didn't allocate money to pay for it and called on Congress to come up with $1.1 billion in additional spending to do so.
International
Canada to Allow Prescription Heroin [34]. Health Canada announced Friday [35] that it is proposing new regulations to allow access to prescription heroin under its Special Access Program (SAP). That program allows for emergency access to drugs for serious or life-threatening conditions when conventional treatments have failed or are unsuitable. "A significant body of scientific evidence supports the medical use of diacetylmorphine, also known as pharmaceutical-grade heroin, for the treatment of chronic, relapsing opioid dependence. Diacetylmorphine is permitted in a number of other jurisdictions, such as Germany, the Netherlands, Denmark, and Switzerland, to support a small percentage of patients who have not responded to other treatment options, such as methadone and buprenorphine," the statement said.
Macedonia Will Have Medical Marijuana by Month's End [36]. Health Minister Nikola Todorov said Saturday that medical marijuana products will be in pharmacies across the country by the end of the month. The country had earlier amended its Law on the Control of Drugs and Psychotropic Substances to allow the move.