Howard County Sheriff's Deputy Carl A. Koontz, 27, was shot and killed and Sgt. Jordan F. Buckley, 35, was shot and wounded in a midnight drug raid gone wrong Sunday night in Russiaville, Indiana. The target of the raid, Evan Dorsey, 25, was later found dead of a self-inflicted gunshot wound inside the mobile home that was raided.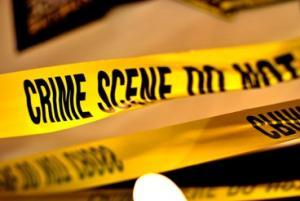 According to
Drug War Chronicle
, which has been tallying deaths directly related to domestic drug law enforcement activities since 2011, the killings bring
this year's total
[12]
to nine. Over the past five years, drug war deaths have occurred at a pace of roughly one a week, and this year so far is right on track.
In this case, they died over a syringe. That's right -- as the Indianapolis Star [13] reported, the deputies were serving an arrest warrant on Dorsey for failure to appear in court over possession of a syringe.
The deputies went to the mobile home where Dorsey was staying shortly after midnight Sunday. According to Howard County Sheriff Steven Rogers, they were part of a team that included sheriff's deputies, Kokomo police officers, and the Russiaville town marshal.
Rogers said officers knocked on the door and announced their presence, but got no answer. He said the deputies "were shot as they entered the home."
Roger's account (or the Star's reporting) doesn't make clear just exactly how officers "entered the home." No one answered the door, so they either just opened it and entered or broke it down and entered. In either case, there were now armed intruders in the residence in the middle of the night. They were met with gunfire from Dorsey.
A SWAT team was called to the scene, but got no response from Dorsey. Two hours later, the SWAT team entered the home and found Dorsey dead of a gunshot wound. An autopsy released Monday described the wound as self-inflicted.
The death of a sheriff's deputy and a citizen in this incident should call into question the decision-making that led to the fatal encounter. Is failure to appear in court for possession of a syringe such a serious offense that it requires a midnight drug raid? In a nation where owning guns is seen as an inalienable right, should police be risking their lives breaking into homes in the night when they could reasonably assume an armed resident might mistake them for intruders? And above all, in retrospect, was it worth it?
While some states [14] have legalized the possession of syringes without a prescription, many continue to criminalize their possession through drug paraphernalia laws. In Indiana, possession of a syringe is a violation of the paraphernalia law, and possession of a syringe with any detectable amount of an illicit drug exposes carriers to drug possession charges.