Joep Oomen, a key figure in European civil society drug reform efforts, has died unexpectedly of natural causes at his home in Antwerp, Belgium. He was found by colleagues dead in bed Friday when they went looking for him after he failed to show up for a meeting. He was 54 years old.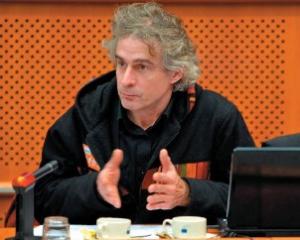 A veteran activist with more than a quarter century of organizing under his belt, Oomen was the cofounder of numerous drug reform NGOs, including the European Coalition for Just and Effective Drug Policies (
ENCOD
[14]
), the
Trekt Uw Plant
[15]
cannabis cultivation social club in Antwerp, and the Dutch Union for the Abolition of Cannabis Prohibtion (
VOC
[16]
).
Joep's vision of a world without drug war drew his attention beyond Europe's borders as well. He had been active with groups like Mama Coca [17] and Friends of the Coca Leaf [18] in working to see the coca plant treated with the respect it deserves, and had been a steady presence at organizing around the United Nations' international drug prohibition bureaucracy.
"Joep was the kind of activist you only very rarely come across," wrote VOC chairman Derrick Bergman. "He combined a seemingly inexhaustible drive and perseverance with impeccable integrity and transparency. Joep spoke fluent Spanish since his studies in Amsterdam in the eighties, he became half-Flemish in Antwerp, but in the end he was primarily a world citizen. I consider myself lucky to have known Joep and to have worked closely with him for eight years with the VOC and Encod. He was not only a hugely effective and inspiring activist, but also a very dear friend."Oomen was present at many international drug reform conferences, where he shared his knowledge and experience about Europe and eagerly sucked up the latest information from around the world. He was also a key source on European drug policy reforms for this newsletter (Drug War Chronicle), always responsive to our requests for information and clarifying the sometimes murky goings on across the water.
We consider Joep a friend and colleague. We are shocked and saddened by his untimely departure.
He leaves behind a wife, Beatriz, two sons, and a grandson.