A federal CBD medical marijuana bill picks up more sponsors, so does a federal asset forfeiture reform bill, Georgia advocates want whole whole plant medical marijuana, Mexico's first coca patch is busted, Saudi Arabia beheads another drug offender, and more. Let's get to it: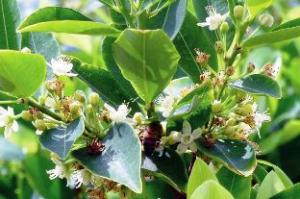 Marijuana Policy
York, Maine, Selectmen Refuse to Put Legalization Initiative on Ballot, But… [24] Town selectmen voted against putting the initiative from Citizens for a Safer Maine on the November ballot, but since petitioners have already gathered sufficient signatures to force the issue, they can get their petition notarized to be placed on the ballot. York will join Lewiston and South Portland in voting on initiatives this year; Portland approved one last year.
Medical Marijuana
Charlotte's Web Medical Hemp Act Picks Up More Sponsors [25]. The Charlotte's Web Medical Hemp Act (HR 5226), which would exclude cannabidiol (CBD) from the definition of marijuana, has gained new sponsors. It now has 19 cosponsors -- 11 Democrats and eight Republicans. The latest are Reps. Ann Wagner (R-MO), Matthew Cartwright (D-PA), and Chris Stewart (R-UT).
Georgia Advocates Call for Whole Plant Medical Marijuana, Not Just CBD Oil [26]. As legislative hearings in Macon continue to examine the use of CBD oil, medical marijuana advocates are calling for whole plant medical marijuana. "The cannabis plant contains many compounds that have proven to be effective in treating a variety of conditions," said Georgia C.A.R.E [27] director James Bell. "We should not be determining who can and cannot benefit from this healing plant."
Asset Forfeiture
Civil Asset Forfeiture Act Picks Up New Sponsors [28]. The bill, HR 5212, now has five cosponsors. The latest are Reps. Stevan Pearce (R-NM), Cynthia Lummis (R-WY), and Reid Ribble (R-WI). All cosponsors so far are Republicans. The bill, filed by Rep. Tim Wahlberg (R-MI), would increase citizen protections against federal asset forfeiture actions.
Law Enforcement
Feds Raid LA Fashion District in Cartel Money Laundering Probe [29]. More than a thousand law enforcement officers spread out across LA's fashion district Wednesday, raiding more than 60 warehouses, storefronts, and residences, arresting nine people and seizing $65 million in cash that they said was being laundered for Mexican drug trafficking organizations. The feds called the mass bust Operation Fashion Police.
International
OAS Head Claims Regional Consensus on Drug Reform [30]. Speaking in front of the Inter-American Dialog in Washington, DC, Organization of American States (OAS) Secretary General Jose Miguel Insulza said Wednesday that regional leaders have reached consensus on four drug policy reform issues: to emphasize a public health approach, to seek out alternatives to incarceration, to stay strong against organized crime, and to work on strengthening regional institutions. Insulza's remarks come ahead of an OAS Special General Assembly to be held in Guatemala next week.
Mexico's First Coca Plantation Discovered in Chiapas [31]. Mexican soldiers have seized more than 1,600 coca plants being cultivated in southern Chiapas state, near the Guatemalan border. Mexican military and UN Office on Drugs and Crime (UNODC [32]) officials said it was the first time coca planting had been discovered in the country. "It's a pretty troubling discovery," said UNODC Mexico representative Antonio Mazzitelli. It could amount to "a small-scale experiment to see if there is a possibility of replicating" coca production in Mexico. Coca is currently grown only in the Andes, although there is nothing stopping it from being cultivated elsewhere.
Saudi Arabia Beheads Another Drug Offender [33]. Authorities in Saudi Arabia Tuesday beheaded a Pakistani national convicted of smuggling "a large quantity of heroin." They have executed at least seven other drug traffickers in recent weeks, and 49 people overall so far this year. It's unclear how many of the 49 were drug offenders.