Alaska appears poised to vote on marijuana legalization, New York's governor announces a half-step toward medical marijuana, the ACLU fights for our rights on a couple of fronts, and trouble could be coming to the coca fields of Peru. And more. Let's get to it: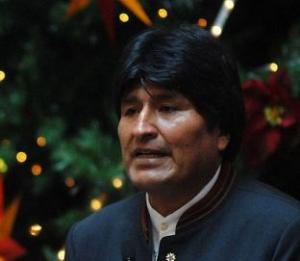 Alaska Marijuana Legalization Initiative Campaign Hands in Signatures
[25]
. Supporters of an initiative to legalize marijuana in Alaska handed in 46,000 signatures Wednesday. The campaign only needs 30,000 valid signatures to qualify for the August ballot. State election officials have 60 days to verify the signatures.
Marijuana Decriminalization Bill Filed in Alabama [26]. Rep. Patricia Todd (D-Birmingham) has filed a bill that would decriminalize the possession of up to an ounce of marijuana. An as yet unspecified fine would apply to offenders. The bill has been assigned to the House Judiciary Committee and will be scheduled for a hearing when the session gets underway next week.
Alabama Governor Rejects Legal and Medical Marijuana [27]. Gov. Robert Bentley (R) said Wednesday he opposes legalizing marijuana for either recreational or medical purposes, although he suggested he would be open to FDA-approved medical marijuana products. "I do believe there are medications out there that will do the same thing," Bentley said. "Now if someone wants to use the medicine that is in marijuana, go through the testing when you do that through the FDA, go through all of that -- that's fine. I have no problem with that."
Medical Marijuana
New York Governor Announces Limited Medical Marijuana Program. [28] Gov. Andrew Cuomo (D) used his State of the State address Wednesday to announce he will initiate a limited medical marijuana program through executive action. Advocates said the measure was not enough and that the state legislature needs to pass pending medical marijuana legislation.
Asset Forfeiture
Utah Moving to Undo Asset Forfeiture Reforms [29]. The Utah legislature moved late last year to roll back asset forfeiture reforms approved by state voters in a 2000 referendum. In unanimous votes, legislators approved a bill that will kill the provision requiring reimbursement for property owners who win in court and to require prosecutors to file such cases in a timely manner. Read Radley Balko's lengthy report by clicking on the link.
Drugs and Pregnancy
Experts File Brief Challenging Use of Child Abuse Law against Pregnant Women Using Methadone [30]. Some 76 groups and experts in maternal, fetal, and child health, addiction treatment, and health advocacy filed an amicus curiae (friend of the court) brief [31] before the New Jersey Supreme Court, urging it to overturn a lower court ruling making the state's civil child abuse law applicable to women who received medically prescribed methadone treatment while pregnant.
Search and Seizure
Indiana ACLU Challenges Pain Medication Drug Test Rules [32]. The ACLU of Indiana filed a lawsuit Wednesday in federal court challenging a new state rule that requires patients prescribed a certain level of pain medications to undergo annual drug tests. The rule concocted by the state Medical Licensing Board last month requires such patients to sign a treatment agreement that includes agreement to undergo the annual tests. The ACLU argues that the rule violates Fourth Amendment proscriptions against unreasonable searches and seizures.
Massachusetts ACLU Sues to Block Drug Dog Sniffs of Prison Visitors [33]. The ACLU of Massachusetts and a prisoners' rights group have filed a lawsuit in Suffolk County Superior Court seeking to block the state Department of Corrections from using drug dogs to search prison visitors. The suit seeks a preliminary injunction to immediately stop the practice and allow for public comment on the policy, which the department instituted in November. A hearing is set for January 24.
International
Peru Coca Eradication to Target VRAEM for First Time, DEVIDA Head Says [34]. The Peruvian government for the first time will attempt to eradicate large amounts of coca crops in the Apurimac, Ene, and Mantaro river valleys (VRAEM), the head of the Peruvian anti-drug agency DEVIDA said Wednesday. The area is the most densely planted coca growing region in the world, accounting for more than half of all Peruvian production, and is the home of Shining Path guerilla remnants who got involved in the drug trade as their rebellion fizzled 20 years ago. DEVIDA wants to eradicate 37,000 acres of coca crops there, about 75% of total plantings in the region. Look for trouble when eradication efforts actually get underway, probably in August.
Bolivia to Use G-77 Post to Push for Legal Coca Leaf Internationally [35]. Bolivian President Evo Morales has assumed chairmanship of the Group of 77 nations, and he said Wednesday that he would use his position to push for removing coca leaf from the 1961 UN Single Convention's list of internationally banned drugs. Bolivia briefly left the treaty in 2012 before returning last year with a reservation that it did not recognize the ban on coca leaf chewing. "Last year, we achieved recognition of traditional consumption of the coca leaf," he said. "Our next task will be to remove the coca leaf from the list of prohibited substances."
Germans Not Ready for Marijuana Legalization, Poll Finds [36]. Only 29% of Germans said they favored legalizing marijuana in a new poll, while 65% were opposed. The only political party with a majority favoring legalization was the Greens, and just barely, with 51%. A Green politician, Monika Herrmann, is trying to open a Dutch-style cannabis coffee shop in Berlin's Friedrichshain-Kreuzberg district, but would need federal government approval. This poll isn't going to help.
France Approves Marijuana-Based Medicine for Multiple Sclerosis [37]. France's health ministry announced Thursday it had approved the use of Sativex, a cannabinoid mouth spray, to treat patients suffering from multiple sclerosis (MS). The drug is the first marijuana-based medicine to be made available in the country. Sativex is already approved in more than 20 countries.