---
Thank you to our supporters who donated last year and have made this work possible.
Our daily "Chronicle AM" roundup took a week off for the holidays, but will return tomorrow.
Welcome to our new contributor, Denver-based journalist Rebecca Chavez.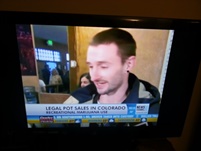 Permission to Reprint:
This issue of Drug War Chronicle is licensed under a modified
Creative Commons Attribution license
. Articles of a purely educational nature in Drug War Chronicle appear courtesy of DRCNet Foundation, unless otherwise noted.
---
Links:
[1] https://stopthedrugwar.org/user/psmith
[2] https://stopthedrugwar.org/user/borden
[3] http://stopthedrugwar.org/chronicle/2014/jan/01/colorado_makes_history_first_leg
[4] https://stopthedrugwar.org/chronicle/815#comments
[5] https://stopthedrugwar.org/license