David Borden [8], Executive Director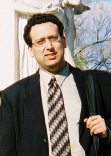 One of our rituals in the United States is the annual release of two major national surveys of drug use -- the National Survey on Drug Use and Health (NSDUH), carried out by the federal government, and
Monitoring the Future
[9]
(MTF), federally funded but performed by researchers at the University of Michigan. MTF, which has queried 8th, 10th and 12th graders about their drug use rates and their perceptions about drugs (illicit as well and licit drugs) since the '70s, came out with their
annual survey results
[10]
yesterday morning. Unfortunately, one tends to derive very different impressions when reading the sober (so to speak) discussions provided by MTF's scientists, vs. the alarmingly written materials disseminated by government agencies to the press.
The drug news for 2013 was actually fairly good, at least overall. Use of most drugs was steady or even declined. One of MTF's two press releases noted that youth cigarette smoking has declined! Young people have also become more cautious when it comes to use of synthetic drugs as well, according to the other release -- the direction of change in use rates varies by age group, but it's a positive sign. Much of the discussion in the media, however, was about marijuana use. Use by seniors declined in 2013, relative to 2012, but use of marijuana by 8th and 10th graders increased.
As a chart from the MTF report that I've pasted below shows, though, it didn't increase by very much. More importantly, it didn't reach a level out of line with the rates surveyed for those age groups during the past few decades. It's a far lower rate, in fact, than when MTF first started surveying. The most recent qualitative discussion about marijuana use was published last February, in a historical report using data through 2012. It soberly noted both upturns and downturns in annual and daily use levels among the age students surveyed: including declines during 2006 through 2008; increases in 2010; mixed developments in 2011; and decreases or leveling off in 2012. All of the 2013 numbers for marijuana are very close to those found for 2012.
Enter the drug czar. In remarks accompanying a video prepared for the media [11], Office of National Drug Control Policy director Gil Kerlikowske proclaimed, "These increases in marijuana use over the past few years are a serious setback in our nation's efforts to raise a healthy generation of young people." Kerlikowske took a swipe at marijuana legalization in Colorado and Washington too, an article from the McClatchy news service [12] notes, also claiming medical marijuana has made it easier for young people to obtain the drug. But there is mixed evidence for that at best. For example, a recent study [9] published in the American Journal of Public Health found that medical marijuana laws "have not measurably affected adolescent marijuana use in the first few years after their enactment," though noting that what happens in the short-term does not necessarily tell us what may happen in the long term.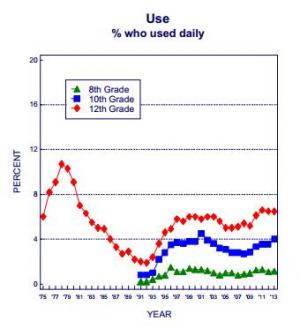 Use of any psychoactive substance by teenagers is a legitimate concern, even marijuana. But the drug czar's hyperbolic characterizations don't match the substance of the report very well. His claims about the impact of liberalized marijuana policies also fall well short of providing any substantive analysis on the topic. That's not surprising for a politically appointed anti-drug official. But if it isn't very surprising that media would uncritically buy into it, it is disappointing to see it still happening on this issue in 2013. They could have printed the drug czar's comments, but also those of some independent voices. Or they could at least have looked at the actual report to see what its academics authors felt was important to highlight. Instead they ran a scare story -- just what the drug czar wanted.
Kids and marijuana use is just one of many drug policy areas in which mainstream media, despite some general improvement and increased interest in our side of the issue often still falls short. Here are some others:
As we approach 2014, I've highlighted some continuing shortcomings in mainstream media coverage of drug issues, in part to illustrate why we believe it is still up to reformers to fund and make our own media -- a drumbeat sounding clear and true against the fear and misinformation, turning a few more heads every year and normalizing rational debate. I hope you will support our organization [24] to financially be able to continue in 2014.