California's Field Poll [16] is reporting majority support for marijuana legalization in the Golden State. The poll had support for generic marijuana legalization at 55% and, somewhat surprisingly, support for an actual initiative at 56%.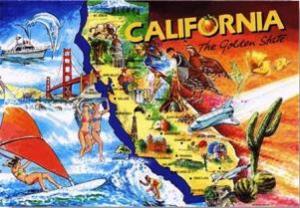 The Field Poll is in line with other recent polls showing California majorities in favor of legalization. A
September Public Policy Institute of California poll
[17]
had 60% of registered voters favoring legalization and an
October Tulchin poll
[18]
had support for legalization at 65% among likely voters.
In addition to the generic marijuana legalization question, the Field Poll asked specifically about the California Cannabis Hemp Initiative of 2014 [19] (CCHI), which would legalize all uses of marijuana and hemp for adults 21 and over. Support for that perennial and perennially under-funded initiative was at 56% statewide, reaching 70% in the San Francisco Bay area.
The CCHI won more support from Democrats (65%) and independents (62%) than Republicans (39%), and more support men (58%) than women (55%). Support was more likely among whites (60%) and blacks (55%) than among Latinos (46%) and more likely among young voters (64% for the 18-to-49 age group) than people in their 50s (50%) or over 65 (47%).
The CCHI isn't the only initiative out there. Two more are at the state attorney general's office awaiting approval to begin signature-gathering, including one filed last week by the Drug Policy Alliance, the Control, Regulate, and Tax Marijuana Act. [20] But Field didn't ask about them.
The Field Poll, which has been tracking California voter attitudes since 1947, illustrates a dramatic shift on marijuana policy. In 1969, the first year the poll asked the question, only 13% supported legalization. By 1980, that number had climbed to 30%, and by 2010, it had reached 50%. Now, it's up another five points in the past three years.