The future of medical marijuana under Washington state's legalization scheme remains a hot topic, the DEA is banning more new synthetics, there are contradictory signals from Holland, and more news, too. Let's get to it: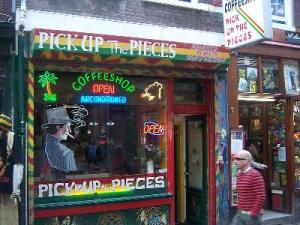 Medical Marijuana
Hundreds Pack Washington State Medical Marijuana Meeting [16]. Medical marijuana patients and providers by the hundreds attended a public hearing in Lacey Wednesday, the final day for public comment on state regulators' proposed plans to do away with medical marijuana grows, shutter dispensaries, and reduce the amount of medicine patients may possess. Regulators essentially want to fold the state's medical marijuana program into its new marijuana legalization scheme. Patients and providers are not happy, and they let the regulators know it.
Former New Mexico Medical Marijuana Official to Speak in Iowa [17]. Dr. Steve Jenison, the former medical director of the New Mexico Medical Cannabis Program, will be in Iowa in coming weeks to make presentations about how the New Mexico program works. His visit comes as pressure to institute medical marijuana in the Hawkeye State is on the rise. Jenison will speak in Iowa City on November 19 and Des Moines on December 2. Click on the link for more details.
Synthetic Drugs
DEA Bans Three More New Synthetic Drugs [18]. The US Drug Enforcement Administration (DEA) Friday announced it was banning three new synthetic phenethylamines effective immediately. The drugs are 25I-NBOMe, 25C-NBOMe, and 25B-NBOMe, which the DEA describes as powerful psychedelics linked to at least 19 deaths in the US since March 2012. The ban is an emergency ban, placing them on Schedule I for the next two years, while the DEA and the Department of Health and Human Services move to permanently ban them.
International
Amsterdam Cannabis Cafes Near Schools Must Shut Down During the Day [19]. Beginning in January, all Amsterdam cannabis cafes within 250 meters of a secondary school will have to shut down during school hours, Mayor Eberhard van der Laan said Friday. Thirty-one cannabis cafes will be affected, and the cafe operators' association isn't happy. "This cannot be true," the association said. "It's going to cause problems, and distance from a school is a non-issue. This policy is directed at school pupils but the under-18s don't get into a coffee shop anyway because of the tough controls. But our regulars will have to wait until 18.00 hours."
Most Dutch Municipalities Support Legal Marijuana Cultivation for Cannabis Cafes [20].Two-thirds of Holland's largest municipalities support some form of government-organized or -legalized marijuana production to supply cannabis cafes, NOS TV reported Friday. That would address the country's "back door problem," where retail sales of marijuana are allowed, but a legal supply for cannabis cafes is not. Justice Minister Ivo Opstelten has said he opposes such a move, but has pledged to update parliament on the situation by year's end.
Czech Medical Marijuana Law Leaves Patients without a Legal Supply [21]. The Czech Republic legalized medical marijuana earlier this year, but the estimated 20,000 patients who would be eligible to use it can't get it legally. Fingers are being pointed at the Health Ministry, which opposes it. The ministry banned insurance companies from paying for it, banned its use by people under 18, limited patients to only one ounce a month, and allows only four strains to be imported by Dutch medical marijuana producers -- at very high prices for a low-income country. But even the Dutch medi-weed hasn't arrived -- it may show up in December -- and when it does, pharmacies still won't be able to sell it until an electronic registry is set up.
Bermuda Public Safety Minister Doesn't Rule Out Marijuana Legalization [22]. Bermuda Public Safety Minister Michael Dunkley said Thursday that while he personally opposes marijuana legalization, he has not ruled out the possibility of legalizing the herb there. His remarks came in the context of rising interest in marijuana law reform in the island nation, where a public debate on decriminalization is set to happen soon. This is the first time a Bermudan public safety minister has expressed the slightest openness to legalization.
Bolivia Increases Size of Legal Coca Grows [23]. The Bolivian government Wednesday set the amount of coca to be grown legally for traditional uses at 14,705 hectares, an increase of 2,000 hectares over previous years. The increase is needed to meet demand for coca for traditional uses, according to the Comprehensive Study of the Coca Leaf. But Bolivia cultivates nearly twice as much coca as is envisioned for traditional use.