The US First Circuit Court of Appeals in Boston Monday sided with the Drug Enforcement Administration (DEA) in rejecting University of Massachusetts-Amherst scientist Dr. Lyle Craker's appeal of the agency's decision to deny him a license to grow medical marijuana for research purposes.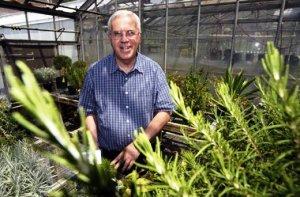 Craker sought to break the federal government's monopoly on the production of marijuana for research purposes. Because of hostility to research on the possible benefits of marijuana in the federal drug control and research bureaucracies, the federal monopoly on marijuana for research purposes created a bottleneck, blocking potential valuable research efforts.
The decision in Craker v. DEA [13] caps a 12-year odyssey through federal regulatory purgatory for Craker and the Multidisciplinary Association for Psychedelic Studies [14], which had backed the UMass-Amherst scientist's bid to develop a source of marijuana independent of that produced under the auspices of NIDA.
"After such a long struggle, I'm disappointed that the Court failed to recognize the need for an independent source of plant material for use in research on the medical uses of marijuana," said Prof. Craker. "In doing so, they have failed the American people, especially those for whom marijuana as a medicine could help."
Craker first applied for a license from the DEA in 2001; it took the agency three years to initially deny his request. In 2007, the DEA's own administrative law judge recommended that the agency grant his application, but two years later, then DEA Deputy Administrator (and current Adminstrator) Michele Leonhart rejected that recommendation. Craker sought a formal reconsideration, which Leonhart denied in 2011.
Craker then appealed to the First Circuit, with oral arguments taking place in May 2012. In its decision Monday, the First Circuit upheld Leonhart's denial. In so doing, it dismissed Craker's claims that the DEA had changed the rules in the middle of the game and that the supply of marijuana from the NIDA facility was inadequate and uncompetitive. Leonhart's interpretation of the Controlled Substances Act was permissible and her findings were "reasonable and supported by the evidence," the court held.
"This ruling will result in sick people continuing to be denied the medicine they desperately need, and which 18 states and the District of Columbia recognize as legitimate," said Allen Hopper, criminal justice and drug policy director for the ACLU of California and one of the lawyers representing Prof. Craker. "The Obama administration must stop blocking the research necessary to take marijuana through the FDA approval process."