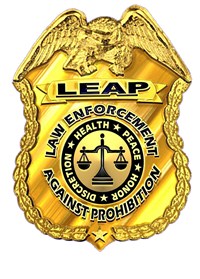 Law Enforcement Against Prohibition (LEAP) is seeking a talented and motivated individual to work in our media relations department on a part-time basis. LEAP is a nonprofit organization representing police officers, judges, prosecutors and other criminal justice professionals who want to legalize and regulate marijuana and other drugs after witnessing the failure of the "war on drugs" up close.
The
assistant media relations director
[12]
will report to and work alongside LEAP's full-time media relations director in efforts to inject the voices of pro-legalization law enforcers into high-profile news coverage of the rapidly advancing public debate about failed drug policies.
Specifically, duties will include but are not limited to:
Writing op-eds and letters-to-the-editor.
Drafting, editing and distributing press releases.
Making follow-up pitch calls to reporters and producers.
Scanning the news to identify PR opportunities.
Using an online media database to generate lists of journalists to contact.
Building relationships with journalists.
Encouraging prominent bloggers to link to or write about interesting drug policy stories.
Posting comments mentioning LEAP on prominent blogs and online news articles.
Tracking, circulating and archiving LEAP's news hits.
Interacting with supporters on social media sites like Facebook, Twitter and Reddit.
Through these and other tactics, the assistant media relations director will help members of the organization's 150-member bureau of law enforcement speakers make their voices heard in the increasingly prominent global drug policy discussion.

The assistant media relations director will preferably -- but not necessarily -- be located in San Francisco, CA or Washington, DC, and will work three days a week (24 hours per week).

QUALIFICATIONS:
Demonstrated ability to generate positive news coverage for advocacy efforts.
Familiarity with diverse news organizations across platforms (print, online, broadcast).
Excellent written and oral communications skills.
Commitment to LEAP's mission to replace the "war on drugs" with legalized regulation.
Social media savvy.
Video editing, graphics and web design skills are major plusses.
Spanish language fluency a plus but not required.
COMPENSATION:

The assistant media relations director will be compensated at a competitive hourly rate commensurate with experience.

TO APPLY:

Please send a resume, cover letter and (preferably published) short writing sample to Tom Angell, LEAP's media relations director, at [email protected] [13]. Interviews are being conducted on a rolling basis, so interested candidates are encouraged to apply as soon as possible. The application deadline is June 15, 2012.

More information about LEAP is available at http://www.CopsSayLegalizeDrugs.com [14].