Both chambers of the Rhode Island General Assembly voted Monday evening to approve marijuana decriminalization bills. Each measure now faces only a procedural vote in the other chamber before the bill goes to Gov. Lincoln Chafee (I).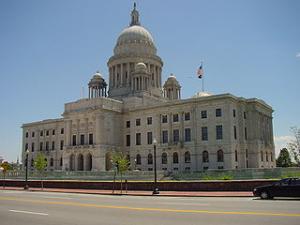 Chafee has
so far declined to say
[15]
whether he will sign it or veto it. The
Marijuana Policy Project
[16]
is
urging its Ocean State supporters
[17]
to contact the governor now to urge him to sign it.
If Chafee signs the bill into law, Rhode Island would join its northeastern neighbors Connecticut, Maine, Massachusetts, New York, and Pennsylvania is choosing to remove criminal penalties for possession of small amounts of pot. Nationwide,
14 states have decriminalized
[18]
, the first wave in the 1970s and the second beginning with Nevada in 2001 and picking up momentum in recent years.
The measure passed easily in both houses of the General Assembly. The Senate approved the bill,
Senate Bill 2253
[19]
, by a vote of 28-6 and the House approved its companion bill, House Bill 7092 by a vote of 50-24.
The bill would make the possession of up to an ounce of marijuana a civil offense punishable by a fine of $150 for most offenses. Under current Rhode Island law, pot possession is a misdemeanor punishable by up to a year in jail and a $500 fine.
"I am proud of my colleagues for voting to replace a criminal penalty and possible jail time for marijuana possession with a more sensible civil fine," said Sen. Josh Miller (D-Cranston), one of the bill sponsors. "This unique policy change is something our state can do to immediately help our citizens. It will still punish marijuana use, while avoiding the harsh collateral consequences that come with a criminal conviction that can ruin Rhode Islanders' job, education, and housing prospects. It will also save our state millions in enforcement costs and help to educate our at-risk youth."
"Now that the legislature has acted, I urge Gov. Chafee to sign this bill without delay," said Rep. John Edwards (D-Portsmouth), another sponsor. "It is unfair to label nonviolent and non-destructive citizens as criminals simply because they possess a small amount of a substance that has been proven safer than alcohol. Additionally, allowing law enforcement to issue a simple citation for marijuana possession -- as opposed to having to make an arrest -- will give our state law enforcement more time to devote to policing, preventing, and solving crimes of violence and against property, ultimately making our streets safer."
The bills have strong public support. A
Public Policy Polling survey
[20]
in January showed that 65% of likely voters supported decriminalization. Support came from across the political spectrum, with 73% of Democrats, 64% of Republicans, and 60% of independents in favor of the measure.
"At a time when Rhode Island municipalities are laying off police officers and experiencing severe budget problems, it makes no sense to waste scarce resources arresting simple marijuana users," said Robert Capecchi, legislative analyst for the Marijuana Policy Project. "By signing these bills into law, Gov. Chafee can take a significant step toward increased fiscal security, public safety, and sensible justice. Rhode Islanders deserve to be treated as fairly as their neighbors when it comes to marijuana policy."
The not-so-hot-potato is now in the governor's lap. If those poll numbers are to be trusted and the will of the legislature is to be respected, Chafee has an easy call.