The New York Times [14] reported Sunday that Governor Andrew Cuomo (D) would come out Monday in support of legislation that would halt the NYPD's practice of arresting people for public possession of marijuana after stopping and frisking them and ordering them to empty their pockets. By Monday, New York City Mayor Michael Bloomberg and NYPD Police Commissioner Ray Kelly both agreed, throwing their support behind the proposal.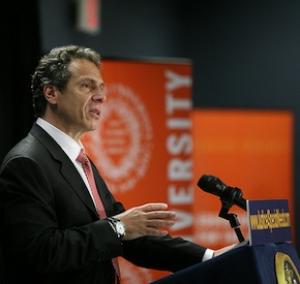 New York actually decriminalized the possession of up to an ounce of pot back in 1977, meaning people caught with small amounts of marijuana would only be ticketed -- not arrested -- but beginning with the administration of then Mayor Rudy Giuliani, the NYPD began violating the spirit of the law (if not the letter) with its policy of forcing people it stopped to pull out their baggies, then charging them with the arrestable misdemeanor of public possession of marijuana. That meant an average 24-hour stay in the city's jails for people who should only have been issued a citation, as well as a criminal record.
Police in New York arrested a little more than 2,000 people a year for marijuana during the 1980s and through the mid-1990s, but as the city's stop-and-frisk campaign began under Giuliani and accelerated in the wake of 9/11, those numbers skyrocketed, averaging more than 40,000 a year since 1995. Last year it was more than 50,000, nearly nine out of 10 of them black or Latino.
Mayor Bloomberg had previously opposed efforts to revise the law to prevent abuses like those practiced by the NYPD, but in a
Monday statement
[15]
, he changed his tune. Because the proposed changes would still allow arrest for actually smoking or selling marijuana, they "strike the right balance," the mayor said.
The legislation the governor and the mayor are getting behind is
Assembly Bill 7620
[16]
and its companion,
Senate Bill 5187
[17]
. Those bills would standardize penalties for marijuana possession by striking the language about "in public view" and "burning" from the state's marijuana law. But Cuomo and Bloomberg don't want "burning" to be decriminalized, so some haggling is likely to take place.
It's about time, said activists from the
Drug Policy Alliance
[18]
, the
Institute for Juvenile Justice Reform and Alternatives
[19]
, and
VOCAL
[20]
, a group representing people affected by AIDS, drug use, or exposure to the criminal justice system. The three groups have been spearheading the effort to get the bills through the legislature.
"Governor Cuomo has demonstrated real leadership and with his recognition that the NYPD is unlawfully arresting tens of thousands of young people; this is a tremendous advancement to ending these egregious police practices," said Gabriel Sayegh, New York state director for the Drug Policy Alliance. "We cannot have laws applied differently to different groups of people when the dividing line is race. The legislature must now act and reform these policies, and only then will New York fully realize the intent of the 1977 marijuana decriminalization law."
"Governor Cuomo's call is well appreciated and welcomed by a growing coalition of faith and civil rights leaders who have been working to ensure a jail-free future for our youth by investing in community development and resources that are far more effective at guiding our youth in the choices they make towards fulfilling their best potential," said Kyung Ji Kate Rhee of the Institute for Juvenile Justice Reform and Alternatives.
"By taking up this issue Governor Cuomo is taking a major step forward to ending the criminalization of young men of color. This shows great leadership by our governor to address racially biased practices and restore the relationship between communities of color and our government," according to Alfredo Carrasquillo, community organizer for VOCAL New York and former victim of illegal marijuana arrests.
Those three groups, as well as others, are preparing a big push in the next two weeks to get the bills passed. Plans include an online media campaign and a mass rally in Albany on June 12. Stay tuned.