Gov. Dannel Malloy (D) last Friday signed into law the medical marijuana bill, House Bill 5389 [13], passed last month by the legislature, making Connecticut the 17th state to legalize the medicinal use of the herb, along with the District of Columbia. Now, licensed physicians will be able to prescribe it to adults suffering from specified diseases or medical conditions.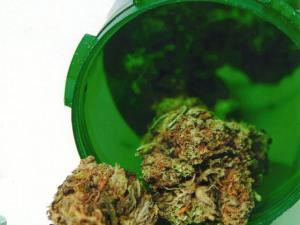 "For years, we've heard from so many patients with chronic diseases who undergo treatments like chemotherapy or radiation and are denied the palliative benefits that medical marijuana would provide," Malloy said in a
signing statement
[14]
. "With careful regulation and safeguards, this law will allow a doctor and a patient to decide what is in that patient's best interest."
Under the new law, patients must receive a written recommendation from a physician and register with the Department of Consumer Protection. Patients and their primary caregivers can possess up to a one-month supply, although how much that is has yet to be determined. It will be decided by a board of eight physicians.
Qualifying conditions include cancer, glaucoma, AIDS or HIV, Parkinson's disease, multiple sclerosis, damage to the nervous tissue of the spinal cord with objective neurological indication of intractable spasticity, epilepsy, cachexia (emaciation often caused by cancer or cardiac diseases), wasting syndrome, Chrohn's disease, post-traumatic stress disorder, and other medical conditions, treatments and diseases.
Patients will be able to obtain their medicine at licensed dispensaries. Only certified pharmacists may apply to run the dispensaries. They will be supplied by at least three, but no more than 10, licensed medical marijuana growers, each of which will pay a fee of $25,000.
"We don't want Connecticut to follow the path pursued by some other states, which essentially would legalize marijuana for anyone willing to find the right doctor and get the right prescription," Malloy said. "In my opinion, such efforts run counter to federal law. Under this law, however, the Department of Consumer Protection will be able to carefully regulate and monitor the medicinal use of this drug in order to avoid the problems encountered in some other states."
Malloy thanked Senate Majority Leader Martin Looney (D-New Haven, Hamden), State Senator Eric Coleman (D-Bloomfield), State Representative Gerald Fox, III (D-Stamford), and State Representative Penny Bacchiochi (R-Somers, Stafford, Union) for their leadership in passing the bill.
Passage of the bill comes after years of work by patients and advocates, including seeing an earlier version of the bill passed by the legislature only to be vetoed by then Gov. Jodi Rell (R).