Former New Mexico Gov. Gary Johnson [15], who is seeking the Libertarian Party presidential nomination, has selected California Judge Jim Gray as his running mate, the Daily Caller [16] reported Monday.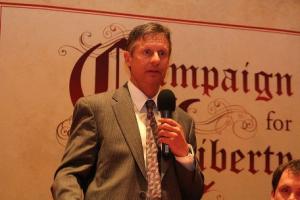 Johnson, a pro-drug reform Republican, sought the GOP presidential nomination earlier this year, but switched gears (and parties) and entered the Libertarian nominating fray after failing to gain traction with Republicans.
His selection of Judge Gray, a prominent advocate of marijuana legalization, "puts pot front and center in the campaign," a Johnson staffer told the Caller. But that staffer added that Johnson's opposition to the war in Afghanistan will remain the campaign's central issue.
As governor of New Mexico from 1995 to 2003, Johnson emerged on the national scene as one of the first elected officials to embrace drug law reform and helped lay the groundwork for the passage of a medical marijuana law there under his successor, Democratic Gov. Bill Richardson.
Like Johnson, Gray is a former Republican turned Libertarian whose vantage point on the criminal bench turned him away from the drug policy status quo and toward drug legalization. He is the author of several books on drug policy and the law and was an outspoken supporter of California's 2010 Proposition 19, as well as a proponent of this year's
Regulate Marijuana Like Wine
[16]
initiative, which failed to gather enough signatures to make the ballot.
"Jim Gray is not only a highly-respected jurist, but he is also a proven leader on issues of concern to Americans -- from drug policy to civil liberties to ethics," Johnson said in a
statement
[17]
Monday. "I am proud he is joining me to offer America a real choice in this election, and excited that his forceful and extremely credible voice will be a vital part of our campaign. Judge Gray is a reformer with the track record and credentials to prove it, and I urge the Libertarian Party to nominate him for Vice-President of the United States."
Gray, for his part, said he was "excited" to join Johnson in campaign that will provide voters with "a credible, proven alternative" to the choices offered by the two major parties.
"Especially with the candidacy of former New Mexico Governor Gary Johnson, the 2012 election offers an historic opportunity for libertarian ideals and policies to be a very real part of the national debate," Gray said. "As the only candidates for president and vice president who will be on the ballot in all 50 states who will cut federal spending by 43%, oppose the war in Afghanistan and the failed and expensive war on drugs, repeal the Patriot Act, support gay marriage equality and the legalization of marijuana, we will offer voters a choice voters crave."
According to the Daily Caller, Gray wasn't the campaign's first choice, although Johnson kept suggesting his name. The Caller reported that Fox News host Judge Andrew Napolitano, former California Rep. Barry Goldwater, Jr., and Daily Caller editor-in-chief Tucker Carlson all turned down a place on the ticket before the campaign offered the nod to Gray.
"Gary had liked him from the very beginning," the Johnson adviser said. "Every time we would bring up somebody else, Gov. Johnson would say 'what about Jim Gray?' He was Johnson's favorite from the beginning."
Johnson still has to win the Libertarian Party nomination, which has its nominating convention this week in Las Vegas, but is expected to easily do so. For a complete list of Libertarian presidential nominee candidates, go
here
[18]
.
A Johnson-Gray Libertarian Party ticket emphasizing marijuana legalization and broader drug law reform could potentially impact the presidential race in at least two states identified as "toss ups" by the campaign watch site
Real Clear Politics
[19]
. In Colorado, the electorate will also be voting on a marijuana legalization initiative,
Amendment 64
[20]
, while in New Hampshire, pot politics is also a hot issue, with both medical marijuana and decriminalization before the legislature this session.
(This article was published by StoptheDrugWar.org's lobbying arm, the Drug Reform Coordination Network, which also shares the cost of maintaining this web site. DRCNet Foundation takes no positions on candidates for public office, in compliance with section 501(c)(3) of the Internal Revenue Code, and does not pay for reporting that could be interpreted or misinterpreted as doing so.)