In the opening move of its election season effort to pass Amendment 64, a marijuana legalization and regulation initiative, the Colorado Campaign to Regulate Marijuana Like Alcohol [16] has put up a billboard in the heart of Denver featuring a nice, middle aged woman who says, "For many reasons, I prefer marijuana over alcohol" and asks "Does that make me a bad person?"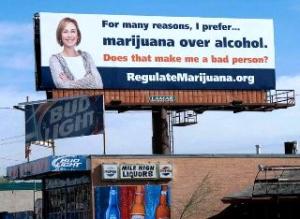 The billboard near Mile High Stadium sits above a liquor store. It went up last Thursday.
The
initiative
[17]
, which takes the form of a constitutional amendment, legalizes the possession of up to an ounce of marijuana by adults 21 and over. Adults would also be able to possess up to six plants -- three mature -- and the fruits of their harvest.
It also calls for the licensing of marijuana cultivation facilities, product manufacturing facilities, testing facilities, and retail stores. It would require the legislature to pass an excise tax on the wholesale sale of marijuana and that the first $40 million in tax revenues each year be dedicated to the state's public school capital construction assistance fund. It would give local governments the ability to regulate such facilities or prohibit them.
In the most recent polling on the issue, a December
Public Policy Polling survey
[18]
found that 49% supported the general notion of legalizing marijuana -- the poll did not ask specifically about Amendment 64 -- while 40% opposed it and 10% were undecided.
That shows that victory is within reach, but by no means assured. One of the key demographic groups needed to win is mothers and middle-aged women, like that nice lady on the billboard.
Colorado isn't the only state where marijuana legalization will be on the ballot. A similar effort in Washington has qualified for the ballot, while signature-gathering for initiatives continues in a number of states. Of those, efforts in Oregon and Montana now appear to have the best shot of actually qualifying for the ballot.