Members of the San Francisco Board of Supervisors and representatives of the city attorney, state legislators, and state officials jointed hundreds of medical marijuana patients and supporters for an energized rally at City Hall Tuesday afternoon before marching to the nearby federal building to demand that US Attorney for Northern California Melinda Haag cease and desist in her attacks on the locally-regulated and -tolerated medical marijuana distribution in the city, the Bay area, and the state of California.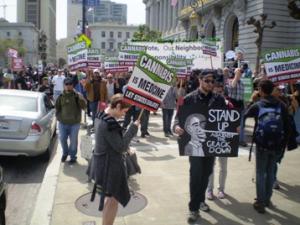 The crowd was large and outraged by Monday morning's federal raid on the movement's iconic
Oaksterdam University
[17]
, associated properties, and the home of Oaksterdam University founder and Proposition 19 funder Richard Lee. But that raid, which drew a heated reaction from activists who gathered in an emergency response to armed DEA, IRS, and US Marshals, went down after Tuesday's rallied had already been scheduled, and was only the latest in a recurring pattern of federal strikes against the movement and the industry going back to last fall.
Since October, when California's four US Attorneys jointly opened their campaign against the dispensaries, five have been forced to close because of federal threats in San Francisco alone, and others are under current threat. Across the state, the number of federally-induced shutdowns is in the dozens, including some of the state's most venerable and most regulated medical marijuana enterprises.
In San Francisco, patients, advocates, dispensary operators, the San Francisco chapter of
Americans for Safe Access
[18]
, and members of the
San Francisco Medical Cannabis Task Force
[19]
are launching a campaign, San Francisco United, to push city officials to take action to protect medical marijuana distribution in the city. It's not that they need a whole lot of pushing, given their recognition of the broad popularity of medical marijuana in the city where the movement was born.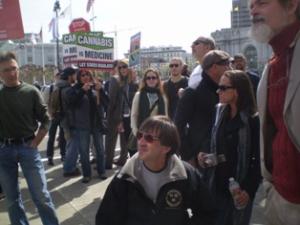 "By opposing federal interference, San Francisco officials are taking a stand for patients and for sensible public health policy," said ASA founder and Executive Director Steph Sherer. "The federal government must not be allowed to push patients into the illicit market without consequence."
Looking out at the crowd gathered around the steps of City Hall waving a sea of "Cannabis Is Medicine, Let States Regulate" signs, Sherer told her audience the movement is having an impact. "Haag and Holder are watching you. You're frightening them," she said to wild cheers.
"You're not alone; you have friends in city hall," Supervisor David Campos said as he stepped before the microphone. "This is a social justice issue; this is about safe access for patients," he said. "The voters have spoken, and we understand the importance of this issue. We need to expedite the permitting process so those closed dispensaries can reopen quickly."
Supervisor Christina Olague assailed Haag's campaign against the dispensaries. "This is absurd," she told the crowd, calling for solidarity. "When one of us is attacked, all of us are attacked," she said.
Cardboard cutouts of Haag's face on sticks allowed crowd members to wear "Haag masks" complete with blank speech balloons, on which protestors wrote "Quit vomiting and grow your own," "I love Romney," and similar witticisms.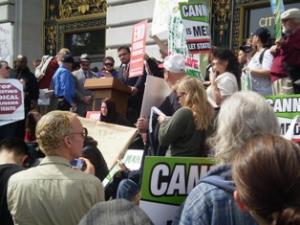 "Melinda Haag didn't know what she was getting into," said Quintin Mecke, spokesman for drug reformer state Assemblyman Tom Ammiano (D-San Francisco). "California is a sanctuary state, and California law is at stake. But this isn't just a San Francisco issue or a California issue, it's a national issue."
Sixteen states and the District of Columbia have medical marijuana laws. In the past year, the DEA and other federal agencies have unleashed offensives against dispensaries in California, Colorado, and Montana, and have attempted to intimidate state officials in other medical marijuana states contemplating state-regulated distribution systems.
Mecke also announced that Ammiano's
Assembly Bill 2312
[20]
, which would set up a statewide system of regulated medical marijuana distribution, will get a first hearing next Tuesday in the Assembly Public Safety Committee.
"I urge the federal government to halt its assault on dispensaries and cease its cruel attacks on patients and caregivers," said a spokesman for state Sen. Mark Leno (D-San Francisco), another friend of drug reform in Sacramento. "Those federal dollars are better spent on programs that actually help people, and I'm concerned about this having a deleterious impact on the state's economy."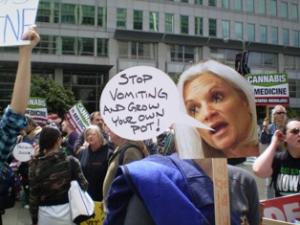 Medical marijuana's contribution to the state economy is substantial, according to state Board of Equalization representative Allen Defazio. "The federal government needs to back off," he said. "The California system works, despite the federal government. Medical marijuana is generating $100 million a year in taxes."
Passing motorists honked frequently in support as protestors made the brief march down Golden Gate Avenue to the federal building, where US Attorney Haag has offices on the 19th floor. Stone-faced, uniformed federal police looked on as the crowd gathered on the building's plaza to chant and shake its fists at her towering aerie.
"This is an insult to San Francisco and California," fumed Dale Gieringer, longtime leader of
California NORML
[21]
. "The Department of Justice doesn't want patients to have safe, law-abiding access to medical marijuana. They want it to be criminal."
As the federal building action wound down, Americans for Safe Access national director Stephanie Sherer, who emceed the day's events, urged the crowd to chant loud enough for Haag to hear their voices on the 19th floor. There is no sign yet that she is hearing those voices, but the clamor is growing, and as long as she continues to go after dispensaries in Northern California, the racket there is just going to get louder and louder.