As part of a deal approved Friday to extend the payroll tax cut and unemployment benefits through 2012, Congress has given its okay to allow states to drug test people applying for those benefits. The move, initially opposed by Democrats [13], came after the Democratic leadership bowed to Republican pressure in its eagerness to get the bill passed.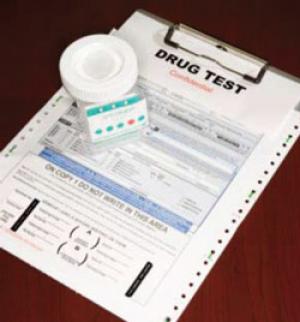 Republicans had initially called for drug testing for everybody seeking unemployment benefits
[14]
, but Democrats balked before backtracking and agreeing to allow testing for those who lost their jobs because of drug use and those applying for jobs in industries where drug testing is prevalent.
It's worth noting that people fired from their jobs for drug use are fired "for cause" and not laid off for lack of work, and thus are ineligible for unemployment benefits anyway. But the provision allowing for drug testing in industries where it is common could expose hundreds of thousands of unemployed workers to drug tests before they could receive unemployment checks. None of those workers was laid off because of drug use.
The deal effectively moves the burden of drug testing from employers, who freely decide whether they think testing has more benefits than costs, to state governments and their taxpayers -- at least in those states that decide to use the new tool. Drug testing is also more likely to be imposed on lower skilled workers than on white collar workers because those sectors are where drug testing is most prevalent now.
Democratic lawmakers downplayed the extent of drug testing about to be foisted on laid-off workers, while Republicans said they would be widespread. The bill requires the Labor Department to draft regulations to determine who will be subjected to drug testing. Those subject to drug testing will be those unemployed workers "for whom suitable work as defined under the state law is only available in an occupation that regularly conducts drug testing as determined under regulations issued by the Secretary of Labor," a Democratic staffer explained to the
Huffington Post
[15]
.
"I think it's a small percentage," Rep. Sander Levin (D-MI), ranking Democratic in the House committee overseeing unemployment insurance, told the Post.
But Republicans cited employer surveys to argue that drug testing would be widespread, with one survey reporting that 84% of employers required drug tests for new hires.
"That's total nonsense," said Levin. "No way 80%."
But while Democrats and Republicans quibbled over how many jobless workers would be forced to endure the intrusive and humiliating ritual, the
Drug Policy Alliance
[16]
was clear and concise in its opposition to the move.
"This policy is a terrible one-two punch to the gut for thousands of struggling Americans," said Bill Piper, the group's national affairs director. "Congress has paired a generous taxpayer subsidy for corporations that drug test with a slap in the face for those struggling to find work, feed their families and keep their homes. The American people have a right to be upset over being forced to subsidize the violation of their civil liberties, when they try to access a program that they pay for with every paycheck. Drug testing is expensive and ineffective, and distracts from evidence-based policies that actually reduce the problems associated with drug use and misuse."